Hilarious Commercial Nails How The UK Feels About Trump's Visit
by Christina Marfice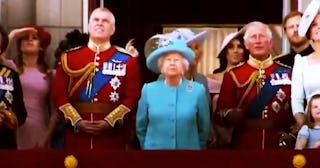 Sky News/Twitter
The Trump baby blimp is back to signal the president's arrival on a state visit to the U.K.
Donald Trump just arrived in the U.K. for a state visit, and if you're wondering how that's gonna go, well, here's a hint. Sky News, one of Britain's major TV news broadcasters, is advertising their coverage of Trump's visit — by using footage of the giant blimp created by protestors that depicts the U.S. president as a huge, angry baby. Yikes.
Yes, Sky News did just give the blimp the Godzilla treatment.
So as you can see, the U.K. is really taking this state visit seriously. The people of England expect great things.
The blimp made its debut flying over London a year ago, when Trump visited the U.K. on a similar state visit. It was created and flown by protestors who clearly feel some kind of way about Trump's tendency to lash out when he's criticized. He often makes official statements from the White House that include downright childish insults, like when he calls his opponents and detractors (and sometimes even his own staff and allies) things like haters and losers.
Case in point: Upon hearing criticism Meghan Markle made about him during his election, the U.S. president called her "nasty." He then tried to backpedal on Twitter, saying the comment was made up by the "fake news media," except there's audio, so so much for that.
A comment like that certainly sets the tone for Trump's state visit, during which he'll be meeting with Prince Harry, Meghan's husband. That's sure to go well.
The blimp is likely to make a reappearance in the sky during this visit. London's mayor, Sadiq Khan, authorized protestors to fly it once again, at the same time he urged British Prime Minister Theresa May not to extend the welcome to Trump for this visit. In response, the U.S. president lashed out on Twitter with some more childish insults, calling Khan a "stone cold loser" and height shaming him.
So very presidential. No wonder the people of the U.K. are taking this state visit so seriously.
This morning, Trump met with Queen Elizabeth II, Prince Charles and Princess Camilla. Together they inspected the palace guard, which had to be a little awkward in light of all the circumstances surrounding this visit.
He's scheduled to meet with other members of the royal family over the next few days. But compared to past state visits by U.S. presidents, Trump's reception is far from warm. Generally, a visiting U.S. president can expect a carriage ride down the Mall with the queen, a room at Buckingham Palace and an invitation to give a speech before Parliament. Trump will receive none of those things during this visit.
But he has one thing no other U.S. president has had: his baby balloon.
This article was originally published on