A Massive 'Wall Of Lies' Mural In Manhattan Lists 20,000 Of Trump's Lies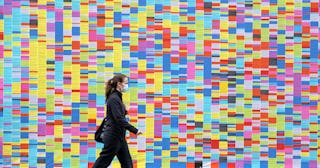 David Dee Delgado/Getty Images
After it was vandalized with pro-Trump and white supremacist slogans, the 'Wall of Lies' is back and now twice as long
As we near Election Day, the Trump "Wall of Lies" in Manhattan is back — and bigger than ever. After the mural comprised of more than 20,000 of President Donald Trump's lies was vandalized in Brooklyn this month, the public art piece was resurrected earlier this week in SoHo. It now stretches 100 feet long versus its original 50-foot length.
Originally located outside independent Radio Free Brooklyn in Bushwick, the "Wall of Lies" features all of the false or misleading statements Trump's made since 2016, all of which were documented and fact-checked by The Washington Post. Since its debut on Oct. 3, it's been visited by hoards of people, including New York Senator Chuck Schumer, who visited just one day after its unveiling.
It wasn't long, however, before the wall was vandalized with pro-Trump and white supremacist slogans, including "Vote Trump or die" and and "Stand Back and Stand By," a phrase Trump said during the first 2020 presidential debate and later adopted by the white supremacist group Proud Boys as their rallying cry. It was up for a mere four or five days before it was tagged.
After launching a GoFundMe campaign, Radio Free Brooklyn raised more than $4,000 and rebuilt the Wall of Lies in lower Manhattan.
"Though this is disappointing, retaliation to standing up for truth is nothing new. The wall may have been vandalized, [but] the impressions it left can never be erased with spray paint," Radio Free Brooklyn Executive Director Tom Kenny wrote on their GoFundMe page. "Spray paint won't silence us."
In addition to erecting a second "Wall of Lies" — the original one still stands in Brooklyn — Radio Free Brooklyn also launched a digital version of the wall on their website. This version allows visitors to interact with the wall, including the ability to "pan, scroll, and zoom in to read specific areas of the wall."
"Seen from a distance, it looks like chaos — perhaps an apt metaphor for this presidency," Bushwick artist Phil Buehler told Bushwick Daily ahead of its unveiling. "But when you step closer, you can read the individual lies, which are in chronological order, color-coded by categories, like coronavirus, Russia, immigration, the environment and jobs. Then when you step back, you can recognize patterns in Trump's lying."
According to Tenney, Radio Free Brooklyn's original idea was to read all of Trump's lies via a 24/7 on-air marathon one week ahead of Election Day. But because the station went remote due to the pandemic, they decided to create a visual display instead.
"In this time where misinformation is rampant, we feel it's vital to use our voice to call out these untruths in a visually-provoking way," Tenney said.