Trump Lies To Rally Crowd, Says Doctors And Mothers Are 'Executing Babies'
by Cassandra Stone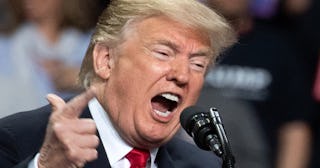 SAUL LOEB/AFP/Getty
Trump's latest lie about abortion is undeniably horrific
It's no stretch to say that Donald Trump is a liar. He spouts anything from daily falsehoods and exaggerations on Twitter to inexcusably huge lies on the national stage. Last night during another one of his rallies, this time in Wisconsin, his falsehoods fell under the latter category. When discussing late-term abortion, he claimed mothers and doctors in the state were "executing babies" post-birth.
This is the kind of rhetoric that could lead to acts of violence and murder. These lies are going to cost physicians and women their lives — either via his riled up, incensed base of supporters or through the loss of reproductive rights. It's unspeakably abhorrent for anyone to lie about such things, and it's a national disgrace that it's coming from our president.
"Your Democrat governor here in Wisconsin shockingly stated that he will veto legislation that protects Wisconsin babies born alive," Trump told the crowd, per CNN. "The baby is born, the mother meets with the doctor, they take care of the baby, they wrap the baby beautifully, and then the doctor and the mother determine whether or not they will execute the baby."
Lawyer and writer Amee Vanderpool shared the clip on Twitter, asking "How is this man's mental state not a National Emergency right now?"
Surprisingly, Trump's rally crowd booed his comment. Instead of backtracking his lie, he doubled down: "You hear late term but this is when the baby is actually born. It came out, it's there, and then that's it," the president added while making a slicing motion with his hand across his neck as if to say the babies are decapitated.
People on social media were quick to share their horrified reactions and the dangerous irresponsibility of perpetuating such lies.
https://twitter.com/jetpack/status/1122423177089552384
This isn't the first time he's tried to paint late-term abortion this way — he made similar remarks during a rally in Texas earlier this year.
As right-wing politicians vote to make abortion laws stricter (and therefore less safe and accessible), it's important to remember that late-term abortions — abortions performed after 20 weeks — are performed in less than one percent of pregnancies. Anti-choice politicians spread lies and harmful rhetoric to mislead voters for a reason — to push their own agenda. In reality, the vast majority of abortions (84 percent) occur before 12 weeks. And parents who have experienced a late-term abortion deserve care and empathy above all else — not this trash.
No one — and listen carefully, because this is important — ABSOLUTELY NO ONE — delivers a full-term, healthy baby and conspires with a medical team to "execute" a newborn. This. Does. Not. Happen.
Our hearts go out to all parents who have experienced trauma or loss and feel triggered by Trump's lies. We cannot let his power to spread life-threatening misinformation go unchecked.