Trying To Make Your Kids' Lunches More Creative? Beware.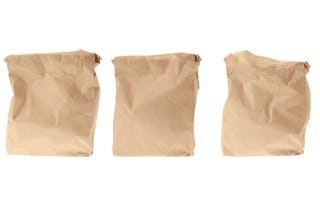 Most of us who pack lunch for our kids are just doing the best we can amid the hubbub of busy mornings and dwindling fridge supplies. But when some artistically minded parents decided to spruce up their kids' lunches using their natural talents, the backlash from other pissed-off parents surprised them. Why? Because they did what so many of us do when we're proud of something we created: They posted it on the Web. But the photos, instead of providing a little chuckle for Facebook friends, aroused the ire of other parents who saw it as yet another attempt at parental one-upmanship. What started out as a lark and then a fun side project once again ignited the flames of the Parent Wars.
It all began with artist Nina Levy adding decorated napkins to her sons' lunches. She started with simple Sharpie doodles and then ramped up to full-color, detailed pictures that kept her sons amused while they ate.
Of course, all the kids went home and asked their parents to do the same. The parents were pissed; don't they have enough pressure already? They blamed Levy. Now, she says most of the negative comments she gets are on her blog, Daily Napkins, from people who think she has too much time on her hands. Ouch.
But mothers seem to take more flak than fathers for their efforts. Derek Benson is a video game artist who likes drawing cartoons on his kids' lunch bags. His art got tossed out daily as his kids finished lunch, so he started posting pictures of the lunch bags on Tumblr, just to keep a record of them. The Tumblr, which didn't identify whether he was a man or a woman, drew immediate ire. Commenters told him, just as commenters told Nina Levy, he clearly had too much time on his hands, and was creating unrealistic standards for everyone else. "Must be nice to have a maid so you can have all this free time," someone posted.
Once he added his "dad" status to his page, the Internet community embraced him and the criticism ceased. Nice. "Suddenly, the Internet was all smiles, because we expect so little from dads," he said.
But not every woman's in the doghouse for her efforts. Samantha Lee, a Malaysian mom, started out with the intention of getting her daughter to be more adventurous in her eating, so she created beautiful fun food plates that "tell a story," as she says. When she started posting the pictures on Instagram, she gained a huge following and eventually a career as a food artist and kids' party planner. Her Facebook page even includes instructions for those who want to follow in her footsteps.
All these parents were just trying to have some fun with their kids (and, as a happy side effect, all of them have received some attention in their professional fields for their lunch projects) so having to deal with parental ire is probably a small price to pay. Still, it speaks volumes about how even small things can spark parental competition, especially when other parents assume that even the smallest of gestures is tantamount to showing off.
I've never got angry with another parent for something like that, but when I found out a good friend of mine was putting lovely, personal notes in her daughter's lunch every day, I felt a bit ashamed of my own more pathetic lunch packing. I told my son about it and asked if he would find it nice to discover a funny or loving note from me in his lunch. He told me he'd find it pretty embarrassing, especially if one of his friends saw it. Shame erased! Thanks, buddy.
This article was originally published on