Tucker Carlson's Lewd Comments About Miss Teen USA Are Beyond Disturbing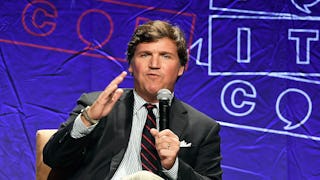 Image via Getty/Michael S. Schwartz
Carlson jokes about having sex with an underage pageant contestant, calls her 'dumb'
Tucker Carlson is coming under fire for a series of disturbing, lewd comments he's made in the past that have surfaced in the past week. His most recently unearthed comments, where he jokes about having sex with an underage 2007 Miss Teen USA contestant, are absolutely nauseating.
The audio clip comes from Carlson's appearance on a past episode of the "Bubba the Love Sponge" radio show. He and the host are discussing the Miss South Carolina contestant from the 2007 pageant — her answer about Americans not knowing where the U.S. is located on a map will live in pageant and YouTube infamy forever — and Carlson takes it upon himself to deem it a "good" thing that the teenager is "dumb."
"She's so dumb," he cackles. "She's like, she's vulnerable. She's like a wounded gazelle, separated from the herd." At another point in the recording, he claims the teenager would "probably be a pretty good wife" and that during the pageant, he wanted to "tap my foot next to her stall" which, at the time, was a reference to expressing a desire to have sex.
Carlson was in his late thirties at the time these comments were made.
Caitlin Upton is the former Miss South Carolina contestant Carlson and the radio host are objectifying in this clip. She admitted in 2015 that her performance in the pageant and subsequent international ridicule she received afterward led to her contemplating suicide. "I was very, very depressed," she said at the time.
This is the third round of disturbing and completely disgusting recordings that show Carlson for what he is: an unapologetic pig.
Earlier this week, a different recording released by Media Matters shows Carlson and his pal Bubba the Love Sponge discussing Iraq: "Iraq is a crappy place filled with a bunch of, you know, semiliterate primitive monkeys," Carlson said in one clip from 2008. "I just have zero sympathy for them or their culture. A culture where people just don't use toilet paper or forks … they can just shut the fuck up and obey, is my view."
And here he is being a homophobe, in another (you guessed it) Bubba clip from 2006:
The first clip to make the rounds was released on Monday, where Carlson can be heard genuinely defending child rape and communities that engage in marrying children to grown men.
During one of their very frequent on-air conversations, he and Bubba are discussing Warren Jeffs — the Mormon fundamentalist who was convicted on two counts of child sexual assault and is now serving a sentence ofr 20 years in prison. Carlson doesn't seem to think what Jeffs did was all that bad.
"I am not defending underage marriage at all. I just don't think it's the same thing exactly as pulling a child from a bus stop and sexually assaulting that child," he said. "The rapist, in this case, has made a lifelong commitment to live and take care of the person, so it is a little different."
"A lifelong commitment." TO CHILDREN. WHOM HE REPEATEDLY ABUSED.
Though Carlson has been facing heat from, well, literally anyone with a brain, he refuses to apologize. "We've always apologized when we're wrong, and we'll continue to do that. But we will never bow to the mob, ever," Carlson said on his show Monday night. "No matter what."
A few advertisers are currently pulling out of his show in response to these recordings. We'll see how long his "no apology" stance lasts in the wake of losing sponsors, in addition to the fact that Media Matters seemingly has no plans to stop releasing the recordings.