Katherine Johnson Was My Daughter's Hero And She's Grieving Her Death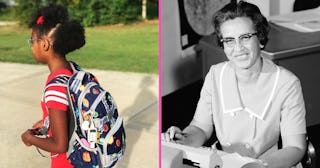 Rachel Garlinghouse/Instagram and Smith Collection/Gado/Getty
My oldest tween told me yesterday that she woke up crying in the middle of the night. The afternoon before, I had informed her that Katherine Johnson had passed away. Johnson was 101 years old, a Presidential Medal of Freedom recipient, and a pioneer in the space race. She is the reason my daughter fell in love with all things outer space.
The weekend Hidden Figures was released in theaters, my daughter I donned star-printed shirts and headed to see the Black Girl Magic on the big screen. We devoured popcorn while enthralled by Janelle Monae, Octavia Spencer, and Taraji P. Henson's performances. This movie, to us, wasn't just a movie. It was an inspirational example of what someone who looks like my daughter could accomplish in her lifetime.
When I was growing up, there were hundreds of celebrities, toys, and characters in books, movies, and television shows that looked like me. The books we were assigned to read and historical figures we learned about were all about whiteness, especially white males. Rarely were we taught about females or people of color outside of Laura Ingalls Wilder and a few openly accepted black celebrities like Michael Jordan. I'm glad my daughter has more options.
After we watched Hidden Figures, my daughter became totally obsessed with outer space. She owns no fewer than a dozen NASA shirts and star-themed headbands, socks, and leggings. When we redecorated her room, we bought her a gray comforter with gold stars. She started collecting every book she could about Mae Jemison, the trio from Hidden Figures, and Ron McNair. Then she declared that she would become a NASA scientist when she grew up, dressing up as one this past Halloween.
The day Johnson died, I couldn't shake the dread that I had to tell my daughter when she got home from school. I know some think that obviously Johnson lived a long, beautiful life, and making it to be over one hundred years old is incredible. However, her age at her death doesn't make her passing any less significant, especially not to a tween girl who idolizes the woman.
Celebrity deaths can be hard on kids and adults alike. My news feed is flooded every day with posts about the horrific loss of Kobe Bryant, his daughter Gianna, and the other victims as the result of a reported helicopter crash. Many of us who are moms deeply sympathize with Vanessa Bryant, recognizing that the death of a partner and a child is the worst of the worst.
Katherine Johnson is my daughter's Kobe Bryant. Johnson showed my daughter that it is possible that with dedication, hard work, education, and tenacity, a black woman can be a difference-maker and game-changer. Against all odds, Johnson, even when surrounded by white people who didn't want her to succeed or doubt her value and certainly wouldn't share a bathroom with her, changed the course of history. For over thirty years, she worked for NASA, including as a West Computer, analyzing data and computing math to help launch astronauts safely into space and bring them home.
No, we never met Johnson. However, that didn't stop us from envisioning what it would be like to sit beside her. We viewed Katherine Johnson as a grandmother figure and role model. She appeared to be someone you could sip tea with and listen to her stories from her past. She was beautiful, she was strong, and she was freaking brilliant. Learning that she had passed left my daughter feeling like a piece of this epic space puzzle she'd built had been torn away.
Death is a difficult, strange subject. A lot of times when someone passes away, you hear things like "God needed another angel in heaven," and "Everything has a purpose." I find these statements ridiculous, unhelpful, and disingenuous. For my child whose role model just died, she's mourning, and no flowery verbiage can make it better. That's OK. Grief is real and can be healthy. Dismissing it does nothing.
I know we'll be having some heart-to-heart conversations, especially in the next few days as we process what it means to live in a world without Katherine Johnson. The current political climate is so overwhelming and depressing, and our kids feel it, too. Johnson was a ray of sunshine, a promise of hope. Now she's gone, and we're heartbroken.
Some adults will find our sadness silly. However, I implore you to think about that celebrity you adored, one who was an intrinsic part of your childhood and passed away. Whatever your connection to that person, be it Luke Perry, Whitney Houston, Selena, or Heath Ledger, they mattered to you. The reasons might be deeply rooted or fairly superficial, but either way, loss is loss.
For a child to process losing someone they looked up to is difficult, complicated, and devastating. The recent deaths of Cameron Boyce, Nikita Pearl Waligwa, and Nipsey Hussle have impacted some young fans. I don't think we should minimize the impact that a celebrity can have on any of us, but especially on a child. Celebrities are larger than life, so when they do die, it's natural to wonder, what's next?
How will we celebrate Johnson's life? We will keep doing what we've always done. We will keep reading all of the books we own that teach us about Johnson and other incredible black women like her. This weekend, we will make popcorn and watch "Hidden Figures." We will honor Johnson to the moon and back. I think she would approve.
This article was originally published on