Tweens And Teens Should Have A 'Go-To' Adult Other Than Their Parents
by Amber Leventry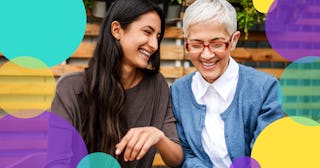 Scary Mommy and MStudioImages/Getty
Recently I had the opportunity to speak to a group of really wonderful and eager mentors. They were looking for better ways to navigate tough conversations about diversity, specifically around LGBTQIA+ topics. They wanted to understand the nuances of gender, sexuality, and gender expression. I wanted them to be comfortable with themselves so they can be comfortable with human interactions that require empathy, patience, and vulnerability.
My new friends were learning how to be good allies. I was also teaching (reminding) these mentors how important it is to be the adult a tween or teen can go to when they can't go to their parents. This isn't just a gay thing or a coming out thing. It's about making space and soft places for our kids to land.
As a parent, I hope my kids feel comfortable telling me anything and everything. I want them to confide in me and ask for my opinion or advice on the little and big things in their lives. But I am also realistic; I am their limit-setter, their boundary-keeper, and their disciplinarian. I don't expect my three kids to always like me. That's okay. My kids don't need to like me all of the time, but I want them to love me and trust me. I recognize that any person's story—my own children included—is more than about trust. Their story may come with consequences that will get them into trouble or perceived trouble. Or they might just be uncomfortable with a particular conversation, because, Ew, gross. That's my mom. It's not my right to know all of their stories.
Rather than feeling insecure or defensive about this, I want my kids to have another adult they can go to when they don't think they can come to me with a specific topic. All kids should have that person who is not their parent or their peer to give them unconditional love and hopefully (mostly) unbiased advice. This could be an aunt or uncle, a family friend, a coach, or a neighbor. Tweens and teens need an adult with more life experience than their friends to help them sort out big emotions in a way that feels safe.
According to Search Institute, a research-based program that helps strengthen youth organizations across the country, kids need development relationships in order to thrive. These relationships help tweens and teens, "discover who they are, cultivate the abilities needed for them to shape their own lives, and learn how to engage with and contribute to the world around them." It's not like kids are going to advertise their need for this, but a solid mentor is able to give them these important connections and skills. And confidence.
And research done by North Carolina State University revealed that "young people who have had mentors are more likely to find work early in their careers that gives them more responsibility and autonomy – ultimately putting them on a path to more financially and personally rewarding careers." The research done by Matt Shipman and Dr. Steve McDonald showed that natural mentor relationships that form between young people and adults, not their parents, are just as powerful as those formed from mentor/mentee specific programs.
As parents, I think it's necessary to check our egos. We can be all kinds of loving and accepting, but our kids may not be okay talking to us about certain things. It's important that they have someone they can confide in though. You want to approve of, like, and trust the adult your child is seeking advice from when it comes to dating, drugs, school, and yes, you. Because as much as we need help with navigating parenting, young people need help navigating childhood and early adulthood separate from us. They are their own people; we are their parents, not their everything. And while I may have given my kid the same advice as another adult, as long as they are getting useful guidance from someone, I will be grateful.
Also, not all parents make themselves available, physically or emotionally, to their child. A tween or teen may be forced to find solace in an adult who is not their parent. Teens who are under stress at home, not safe at home, or are discriminated against at school benefit from a supportive adult in their lives. Marilyn Price-Mitchell Ph.D., shared her research on the matter for Psychology Today: "Regardless of income level, my study showed that teens grew intellectually, interpersonally, and emotionally from supportive mentors," she wrote. "For example, most reported they were better planners, organizers, and problem-solvers. And they grew in self-confidence and self-awareness."
While interviewing over 40 young mentees, Price-Mitchell Ph.D. heard several recurring qualities that made an adult a good mentor. Active listening, gentle pushes to get out of their comfort zones, and lack of judgment while making decisions were a few of the reasons teens felt supported by the nonparent ally and mentor in their life.
All young people deserve the gift of being able to tell someone their story. That person may be a parent, but they don't need to be the tween or teen's parent. Just a supportive adult mentor willing to be a safe space.
I had supportive coaches in my life, but I never really had that go-to adult I could talk to in ways that made me feel validated and heard. I had a lot of secrets, questions, and shame, but I didn't have a person I felt comfortable talking to. I didn't have anyone in my life who gave off the vibe that they wanted to listen to me. Kids need someone willing to say, "I'm here." Show up for all kids, not just your own. And when a young person opens up to you, your job is to say, "Thank you for telling me. I want to help." And mean it.
This article was originally published on