When Your Tween Wears The Same Outfit Every Freaking Day
by Clint Edwards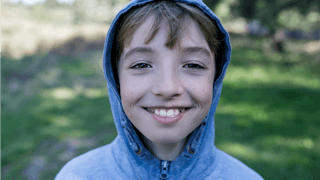 Westend61/Getty
I call it "the outfit" and it's nothing special, trust me. It's a blue zip-up hoodie, a pair of black Adidas track pants with the white stripes up the side and small hole in the right knee, and a grey T-shirt with the cover of Harry Potter and the Deathly Hollows.
He's 11, almost 12.
Now don't get me wrong, he attends a charter school with a uniform, so he does slide into a pair of khaki shorts and a red polo for school each morning. But that blue hoodie is school approved, so he still has a little bit of that outfit with him. The moment he gets home from school he slides into the outfit. Weekends, the outfit. He sleeps in it. Regardless of what he's eating, he wipes his hands on it. The hood is always up because he doesn't want to comb his hair, and the front of the pants and jacket are a collection of finger sized food stains.
It's nasty…
Once a week, I pry the outfit off his body, soak it in stain remover, and wash it, and you'd think I actually removed his skin. I once missed a week because I didn't feel up to fighting with him, and let me just say, I now know what teen spirit smells like.
He has other clothing. A dresser full of bottoms and a closet full of tops. But for whatever reason, he is attached to this one set of clothing, regardless of what it smells or looks like.
I was recently chatting with a good friend of mine, who has a daughter about the same age as my son. I'm not sure exactly how it came up, but it turns out she has "an outfit" too — a green long sleeved shirt with a hood with some numbers printed on the front, and a pair of jeans. She pulls all the same moves as my son, sleeping in it, and refusing to take it off even when it clearly needs to go in the laundry.
I'm not a psychologist. I've done no research on the subject of tweens getting attached to one particular outfit. But my friend was dealing with a very similar situation, and I couldn't help but wonder if this is some sort of universal truth with tweens. Perhaps they all have some attachment issue with clothing. I don't know, but what I can say is that both of us felt like we were in a pretty frustrating situation as parents, and I'll tell you why.
As a father, I want my son to look, at the very least, respectable. I want him to appear as if his parents care for him enough to keep his clothing clean, and hole-free. I want him to look like someone who has a loving family at home. But most of the time, he looks like he went face first down a macaroni and cheese water slide. He takes regular showers, but because he always puts the same clothing on, he smells like dust and B.O.
Now, apart from what I want, we also need to take into account what he wants, and I honestly want to respect his decisions and independence. I want him to feel like he has control over his life, while I act as a guide. Naturally, there are big issue things that I'm going to put my foot down over. Grades, classroom behavior, and screen time limits are some prime examples. But in the scale of things to get worked up over, I'm not 100% sure where this outfit thing falls.
I also know that sometimes digging your heels in as a parent over something that might naturally solve itself can come out sideways, and next thing I know he's decided to become a nudist, which I will admit isn't the end of the world, but I could see it becoming an overall awkward situation.
All of it is driving me bonkers, but it is really the hill I want to die on?
But hey, let me tell you where I find comfort. I can't recall having the one-outfit problem at his age, but I do recall putting up a pretty good fight over getting in the shower, and I often went days under the radar, never touching a bar of soap. All that changed around age 12 when I was assigned to sit next to Jessica Smith during class. I often looked at her, awkwardly, longingly, while she casually placed her hand under her nose and side-eye'd me like I was an actual walking talking stink line. One day I tried to talk to her. I can't remember exactly what I said, but I do recall her saying something to the tune of, "You smell bad."
I took a shower every day after that.
I'm hopeful that in the next year or two, the problem will solve itself. But in the meantime, I'll keep fighting him out of that outfit so I can wash it, and battling him into the shower.
This article was originally published on