Tweet About What Triggers Grief During The Holidays Becomes Viral Thread Of Heartwarming Stories
by Valerie Williams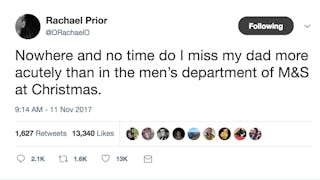 Image via Twitter/Rachael Prior
Her tweet prompted hundreds to share their stories of losing a loved one
The holiday season can bring so much joy, but for those who have lost loved ones, it's one painful reminder after another of the fact that their family gatherings will be missing someone important.
For one grieving daughter, it was a trip to a department store that brought an unexpected flood of sadness. She shared the moment on Twitter, where it's touched thousands who can relate.
Rachael Prior was at London store M&S recently with her husband and children when she spied a certain item of clothing that reminded her of her father.
Her story triggered an outpouring of not just support and love, but of people sharing their own stories about a loved one who has passed.
Prior responded to several of the stories that made her think of her own father, or even just to thank a person for sharing.
Many of the replies show just how difficult this time of year can be for anyone who's lost someone close to them. The holiday season is rich in tradition, and something as simple as tacky Christmas decorations or a much-loved storybook can bring on the wave of grief.
People shared intensely personal stories about how they're coping with their grief and the ways they're choosing to remember their loved ones.
https://twitter.com/jetpack/status/929663748540952576
Along with the shared sadness, Prior was able to connect with one of her father's former students. He was a teacher — and a very memorable one at that.
https://twitter.com/jetpack/status/929433080905035776
https://twitter.com/jetpack/status/929433978779656194
https://twitter.com/jetpack/status/929434887077154816
She was clearly overwhelmed by the way her father touched the lives of others — and the fact that one of those people happened to find her tweet.
https://twitter.com/jetpack/status/929436032663277569
Prior even comforted the woman, telling her that her dad would've been proud of who she grew up to be.
Oh, my heart. Yes, sometimes Twitter can be a beautiful place.
Prior tells the BBC about what triggered her sadness at the department store. "I caught sight of this cosy red jumper and thought it was the sort of thing my late father would love. I'd have picked it for him and I could imagine his face in that moment," she says.
She explains that though her father, Lynton, died 10 years ago, the grief she felt in the store was "overwhelming."
Prior says she had no idea her tweet would spread so far and be felt so deeply. "It felt cathartic to use Twitter but I didn't think for one minute my innocuous tweet would catch on. It's been bizarre." Her raw sadness obviously struck a chord and made thousands feel less alone in their grief this holiday season.
She thanked everyone for the "surge of love" on her timeline, but that thread of replies proves she's far from the only one who benefited from it.