This Twitter Thread About Family Traditions Is Absolutely Heartwarming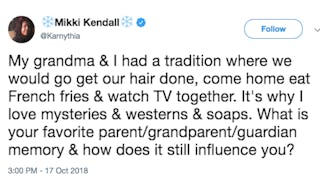 Image via Twitter/Mikki Kendall
These responses will make you cry happy tears
Most of us have a certain love or hobby that we can tie directly back to a family member. Maybe it's a favorite show, a homemade dessert, or secret adventure you'd go on as a child that only you and grandpa knew about — the memory so fresh it's as if it happened yesterday. So, when a tweet asked others to share favorite family memories, the responses were plentiful and reminded us just how important family is.
Twitter user, writer, and diversity consultant, Mikki Kendall, posted a sweet sentiment about her grandma and asked others to share memories about their own families. "My grandma & I had a tradition where we would go get our hair done, come home eat French fries & watch TV together," she wrote. "It's why I love mysteries & westerns & soaps. What is your favorite parent/grandparent/guardian memory & how does it still influence you?"
There was no shortage of responses, lessons learned, and moments that warmed the cold-dead cockles of my heart:
https://twitter.com/jetpack/status/1052686023833075712
My love of Days of Our Lives dates all the way back to afternoons spent with my grandma. We would watch while she did the daily newspaper crossword puzzle (also still a love of mine). I remember solving a particularly hard word for her (it was a total guess) and she was so happy. I felt like I'd won the lottery.
We also spent a fair amount of time playing her old Ouija board, which may or may not be why, to this day, I'm super scared of all horror films, commercials about upcoming horror films, and haunted houses.
That's the thing about being a child and spending time with someone who loves you so much. It doesn't matter what you're doing, just being around that person is enough. It may have seemed like such an inconsequential moment at the time but looking back, you realize just how special it was.
In a time where it seems like everything is a dumpster fire, Kendall's post reminds us all of the good things in life. These are the moments that matter — the ones spent doing nothing with family. Those become the traditions we hopefully pass down to our own kids and grandkids to remind them that sometimes just being together is enough. We don't always need to be stimulated or entertained or plugged in, we just need family, a little imagination, and sometimes a Ouija board to make the most of the day.