20 Hilarious Tweets About Celebrating The 4th of July With Kids
by Joanna McClanahan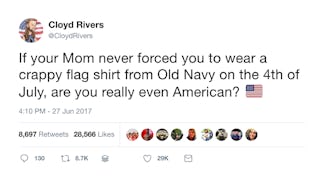 Twitter / @CloydRivers
The 4th of July has always been one of my favorite holidays. There's something magical about late summer nights. America's birthday is never short on delicious food and drinks; there are potlucks and barbecues and all kinds of deep-fried goodness. And at the end of it all, we get to cuddle up and watch fireworks with the people we love.
Now that I have kids, 4th of July celebrations have gotten a little more complicated. They wake you up at the crack of dawn because late, well-lit nights also mean ridiculously early, well-lit mornings. Then spend most of the day running around like wild animals, and throw a fit every time you have to reapply their sunscreen. They're a complete train-wreck by the late afternoon and you spend the last few hours before the fireworks, catering to tantrums, wondering why you put your family through it every year.
But the funny people of Twitter are there in patriotic soli-fucking-darity.
In a way, the 4th isn't that much different than the rest of summer break:
Complete with the constant fight to get them to wear sunscreen:
But it's Independence Day! (Not that we remember what "independence" is like.)
Still eerily close to everyday life for some parts of the country:
Holidays with kids are basically like "vacations" with kids:
And just like vacation, your car is full of half your garage:
Except on 4th of July, most kids end up wearing the same thing:
We spend most of the day outdoors, which is cool if you like the outdoors:
Because, I mean:
But I love food and am happy to contribute to your cookout:
In whatever way I can:
Wherever fireworks are for sale, kids be like:
And whatever else is for sale, too:
Speaking of fireworks:
And the fur babies are OVER IT:
And some moms too:
And after you let your kids stay up late for fireworks, they will still wake up at dawn the next morning:
Here is the itinerary for our holiday travel plans next year:
I'll start taking my kids to fireworks again as soon as they stop throwing epic tantrums at 10 p.m., or until they can drive themselves, whichever comes first.