These Tweets Totally Nail What It's Like Parenting Teens
by Valerie Williams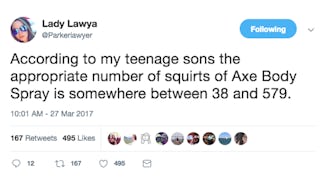 Image via Twitter/Lady Lawya
Parenting teens is a rollercoaster — just ask the parents of Twitter
If you're the parent of a teen, first of all, *pours you a drink*. It's rough out there, right? Teens are amazing and smart and funny. They're like mini adults with thoughts, feelings, and opinions. So many opinions. Parenting teens can be equal parts frustrating and gratifying. It can also be hilarious, as the funny parents of Twitter prove with these LOL-funny tweets about life with teens.
Like we said, they have feelings. But sometimes, all that drama backfires and you just have to laugh — though it's probably best to not let them hear you unless you feel like hearing even more drama.
Either it's boatloads of drama or radio silence. There's no in-between TBH.
But when the communication gets flowing, things sometimes get a little confusing.
All that can be solved by spending a little time with them. They love it.
But forget having meaningful chit-chats before noon.
And be ready to find things where you wouldn't expect to.
In fact, you might just want to stay out of their rooms altogether.
It's…uh…well, it's freaking disgusting.
But you can find revenge in surprisingly satisfying ways.
And you're going to want to inflict it after one too many Axe body spray headaches.
Like, people TRIED to warn us.
But we had to figure it out on our own — and get very crafty.
Even though sometimes, you'll just want them to be your baby again.
And once in awhile, they'll surprise you.
That's just life with teens — and we wouldn't change it for the world.