10 Hilarious Tweets That Perfectly Sum Up Life In Quarantine With Kids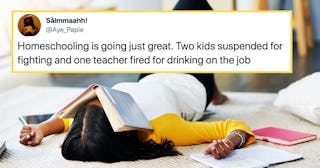 Aye_Papie/Twitter and PeopleImages/Getty
Schools around the country have closed to help stop the spread of COVID-19. Which means the kids are home. And parents are suddenly thrust into the role of teacher–often while also trying to work from home.
Staying home is essential to flattening the curve, to spreading out the number of people who need medical assistance in order to give our frontline warriors–the doctors, nurses, and medical personnel fighting tirelessly to save lives–time. Time could make all the difference in this fight against this virus that has touched so many already, and the least we can do is stay home to give them that very precious resource.
RELATED: Hilarious Jokes For Kids That Adults Find Funny Too
But…after more than a week of being quarantined with my children, I can say with a fair amount of certainty that it can drive you bonkers. And that's on a good day. Being quarantined with kids is an experience worth tweeting about, as the parents of Twitter prove with these truly insightful tweets about quarantine life with kids.
Schedules abounded on social media those first few days of quarantine life. In my house, we wrote out a schedule with rules. As it turns out, the first rule of being quarantined with kids is…there are no rules. It's survival mode. Screen time and snacks alllllll day. (We've since switched to the below schedule.)
Because here's the truth: the struggle is real, and pretty universal.
Not only are we quarantined with kids, some parents are suddenly thrust into the role of homeschool teacher. And it's fine. It's totally and completely absolutely fine.
Luckily, trusty Alexa is always there to lend a hand. Or at least give the kids another name to say besides "mom" all day long.
And definitely if you're homeschooling, don't forget to practice all the safety routines. (Side note, asking for a friend: exactly how long can a fire drill last?)
Being quarantined with kids means things are going to get interesting. The faster we all embrace it, the easier this quarantine life is going to be.
And chances are, it's going to get even more interesting before things get back to normal.
Does it make it easier if we call our kids coworkers? Maybe. Either way, looks like you're the one cleaning up the mess.
And as much as we like to joke about the struggles of being quarantined with our kids, there are some moments that we wouldn't miss. Being quarantined with kids sometimes gives you a reason to slow down, maybe even to spread a little light and love into the world.
And sometimes, being quarantined with kids is a chance to remember that you are so, so loved and appreciated.
This article was originally published on