Twitter Realizes How Ridiculous The Premise Of House Hunters Is, Hilarity Ensues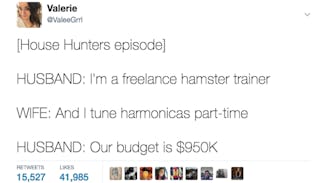 House Hunters is trending on Twitter for the best reason
House Hunters is ridiculous. We all know it's ridiculous. Yet, we can't stop watching. The super high budgets, the whiny complaints of the couples searching for their dream home, the marital arguments over the necessity of bonus rooms — we live for it.
That's why when a tweet about it went viral, people were only too happy to chime in and add their own versions of the show's totally outlandish premise.
It all started with, well…me. I watch a lot of HGTV, House Hunters in particular. However, it's kind of a frustrating hate-watch. My husband and I make a decent income and we've owned our first home for over a decade, but we still find ourselves unable to afford our "dream" home because, reasons. So when we watch House Hunters and hear about the half-jobs some of these couples seem to have while boasting completely insane budgets, we wonder — how in the fuck do they afford it?
So like with everything else in life that upsets me, I made fun of it.
And judging by the completely bananas response within hours of firing off that tweet, I'm definitely not alone in wondering how couples with average or silly-sounding jobs are able to buy beachfront property costing north of $1.2 million.
Like, really. How, though?
Sandwich artists are in high demand.
And potato hanging is an up-and-coming field sure to become mainstream any day now.
Altruistic AF.
This husband might have to get a side job as a sandwich artist to pull this shit off.
True story. My blood boils.
Eye rolls forever.
Behold — my absolute favorite.
What's an episode of House Hunters without a divorce-level marital spat?
Keep the tape rolling, this is the good stuff.
Totally reasonable "wants".
Bottom line? Go home, House Hunters. You're drunk. We're going to keep watching, though. Because apparently, we can't stop.
This article was originally published on