Funny, Unique, And Aesthetic Twitter Names To Register Today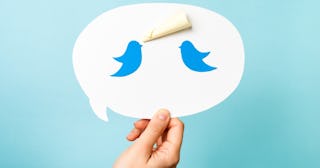 zakokor/Getty
Thinking about joining Twitter? You're not alone. There are 192 million daily active users on Twitter, making it one of the most popular social networks in the world. Sure, people may not talk about a celebrity's Twitter feed as much as their Instagram, but most still use both methods to connect with fans. If you've got the perfect Instagram handle but are stumped on an equally unique name for Twitter, don't despair. Whether late to the game or looking to add an account, finding Twitter names may be difficult for a user just hoping to sign up, but it's not impossible. Twitter names can be up to 15 characters long. Supposedly, Twitter does this to keep things simpler on their platform. There are also a few things to know about Twitter names before drafting up a selection of personal favorites. For one, they can't contain "Twitter" or "Admin," per Twitter guidelines. It can also only use letters from A-Z, and numbers between 0 and 9. Underscores are accepted, but stars and symbols aren't.
Sadly, you can't claim an inactive Twitter account name. Even if the original user last posted back in 2011, it's still not up for grabs just yet. But, who knows? Maybe that'll change sometime in the future.
Now that you know the ground rules, here are some good examples of Twitter names. Be aware, these may already be taken — they're just meant to serve as inspiration.
Funny Twitter Names
Funny Twitter names may inspire a laugh or two. If personalized to your personality or nickname, it'll also be a good indicator as to what kind of tweets you plan on sending. Here are some examples.
@MustLoveCoffee
@DogsRuleEarth
@YellowSnowman
@UnicornParking
@NotARunner
@MsCookieMonster
@MsMichaelScott
@PawneeGoddess
@BluePantsHomer
@Breakfast4Dinner
@EggsBaconToast
@TweetsFromMe
@JustMyThoughts
@TooOpinionated
@LivLaughLov
@ColonelKickass
@TuTuTulip
@2Legit2Quit
@xoVictoriaox
@XxXDirtyDanXxX
@NorthernLightz
@MagikMike
@BitchinBlair
@KeepitDopeJoe
@TickleMePink
@ImDahDude
@SheilaBaby
@McShayne
@ToritheTaurus
@FatKyle
@CosmoCoCo
@TeeJayThompson
@LittleMomma03
@BladeRunnerz
@OMGitsLaura
@RideDatPonyTony
@LucyInTheSky
@InternetMom
@InternetAunt
@BeyonceBeytwice
@BillieEyelash
@StaceysMom
@AgonyAunt
@SylviaPsyoplath
@WhatWouldSaraDo
@JaneDoe
@JaneDon't
@JaneBond
@WendyWacko
@CrazyFeministBlog
@AnnaConda
@JimmyNotChoo
@JustAFishInABarrel
@JustAddCream
@ManWithNoName
@MechanicMike
@MilkTwoSugars
@MinesACosmopolitan
@MorganFreemanButNot
@NotEnoughCoffee
@NotQuiteACelebrity
@NotTheOfficialLukeHemsworth
@OneMorePint
@PatrickNotSwayze
@PickMyNewUsername
@SwipeRightForMe
@TheNamelessArtist
@ThisUsernameIsGarbage
@UsernameEnvy
@WhatWouldKateDo
@HeartTicker
@YESIMFUNNY
@Magicschoolbusdropout
@Everybody
@Regina_Phalange
@PawneeGoddess
@Pluralizes_Wverythings
@Chickenriceandbeans
@ADistraction
@Crazy_cat_lady
@Banana_hammock
@thegodfatherpart4
@unfriendme
@BabyDoodles
@FluffyCookie
@Buh-Buh-Bacon
@Ashley_said_what
@LactoseTheIntolerant
@ManEatsPants
@Twentyfourhourpharmacy
@Applebottomjeans
@Babushka
@Toastedbagelwithcreamcheese
@Baeconandeggz
@Coolshirtbra
@Kentuckycriedfricken
@REVERANDTOAST
@Kim_chi
@idrinkchocolatemilk
@SaintBroseph
@Chin_chillin
@Ghostfacegangsta
@Bigfootisreal
@Santas_number1_elf
@Thehornoftheunicorn
@iNeed2p
@Abductedbyaliens
@Actuallynotchrishemsworth
@Nachocheesefries
@Personallyvictimizedbyreginageorge
@Just-a-harmless-potato
@FrostedCupcake
@Avocadorable
@FatBatman
@quailandduckeggs
@PaniniHead
@mandymooressingingvoice
@catsordogs
@FartnRoses
@RedMonkeyButt
@FreddyMercurysCat
@MasterCheif
@FreeHugz
@Ima.Robot
@ActuallyTheDog
@NotTheTigerKing
@Pixie_Dust
@ChopSuey
Aesthetic Twitter Usernames
Sometimes, it's nice to have an aesthetic Twitter name. It might inspire you to tweet more if you have a flowery name that brings you joy. When you tweet with an aesthetic username, you're also showcasing to others that you're sweet and kind. Any sort of nature-related username is bound to also be a hit. Here are some examples.
@redandwhiterose
@skybluesky
@sunshineinjuly
@anothersunnyday
@liliesandlove
@sunflowerqueen
@cloudyandgray
@summerdaydream
@lilacdreamer
@crimsonclover
@bladesofgrass
@purplenightsky
Twitter usernames generator
Do you not really care about having an authentic username? That's okay, For some people, Twitter is just a good way to get some thoughts out. Keep in mind, randomly generated usernames might give people the impression that you're there to troll. That, or they may be hard to remember. But if you don't care about followers and want to stay mostly anonymous, random usernames are your best bet. Here are some good examples to model your username off of.
@Ken847659
@DogFan9283
@MyThoughts038
@Tweet4U923
@SortingMyBrain9
@2Tired2Think12
@RandomUser03
@Anonymous945
@TwtRBurnAcct2
@MysteryChic904
@PsstItsMe8945
Non-Political Twitter Names
These days, Twitter is really big when it comes to politics. When politicians get in hot water, it's often about something they posted on Twitter. But, Twitter is also a great place for political discussions and debates to happen. Yes, it's very important to stay informed and have a good idea of what's going on in the world. But sometimes, it's nice to have a spot where you can focus on happier things in life — like kitten videos, and funny memes. If you want to use Twitter and avoid political talk, some filters and creative usernames may help. Here are a few.
@HereForTheMemes
@JustLurking
@CatPicsOnly
@DogPicsAllowed
@FluffyStuff123
@NoDebateHere
@LOLsOnly
@TheCuteAccount
@HappyGoodNews
Untaken Twitter Names
It's hard to post a list of untaken Twitter names, as it wouldn't age well. After all, plenty of people are signing up for Twitter every day. It's actually projected to grow by 2.4 percent in 2021. The number might not seem significant, but for a company that was initially founded in 2006, any growth is still quite positive.
Instead, try to figure out what would free up a username. If you happen to have an unpopular first name, that could be a good base. Think hard about your hobbies. Try and aim for a username that is all about you. The following list includes a few ideas, but the only way to figure out if it's an untaken Twitter name is to try and register it yourself.
@DogWalkerSheila
@EmilySmithArt95
@SarahSculpts83
@YogaZenCarlie
@AnnieTheCoach29
@GardenGirl1771
@EliLuvs2Paint
Twitter Names for Girls
@Twinbutterfly
@AngelDoll
@DailyPunch
@HelloGoodbye
@PeaceHug
@Workofholly
@Goodatthis123
@OperaOfDreams
@PlantedBrain
@Unic0rnstaking0ver
@DollyDangerous
@LivLaughLov
@TuTuTulip
@xoVictoriaox
@NorthernLightz
@Bitchin_Blair
@TickleMe_Pink
@SheilaBaby
@Tori_the_Taurus
@CosmoCoCo
@LittleMomma03
@OMG_its_Laura
@LucyInTheSky
@SexiNiKnowit
@LeathrNLace
@P1nkPr1nce55
@Bronz_Beautie
@TwilightFangurl
@PinkPistachio
@6InchStilettos
@o0Angelina0o
@XxPoker_FacexX
@ChickyChickyParmParm
@theoldRazzleDazzle
@Not-Insync
@Reese WitherFork
@LizzosFlute
@LlamadelRey
@HotNameHere
@Carmelpoptart
@Kokonuts
@CherryPicked
This article was originally published on