Netflix Somehow Created The Funniest Twitter Thread Of 2019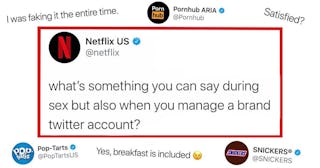 Comments By Celebs/Instagram
Netflix posed a NSFW question and other big brands delivered
Everyone loves Netflix for a multitude of reasons — they take us to a land far, far away, we can "chill" while watching a program (which means very different things depending on your age), and it's made binge-watching possible. The streaming giant recently upped their game, asking Twitter a simple question with some seriously hilarious answers: "What's something you can say during sex but also when you manage a brand twitter account?"
You can imagine certain brands getting in on the action (I'm talking to you, Hot Pockets) because there are some pretty hysterical people who manage brand social media accounts (thank you Wendy's for your leadership in this area). What transpired after Netflix posed the question can best be described as every bad dad joke meets "That's What She Said" comeback, and we're here for it.
The comments came in fast and hot (TWSS) and each was funnier than the next:
To which Netflix replied with the following because they are the best thing that's happened to us since PBS.
Others were quick to jump on the bandwagon:
It's probably as good a time as ever to mention that most of these are not safe for work so you may want to wait until you get home (TWSS….again). Brands like Arby's, Groupon, CNET, and Paramount were quick to get in on the action which leads me to believe there's some secret hideaway where social media managers work and collectively come up with this shit together.
With all of the millions of things we look at on the daily on various social media platforms, it takes a lot to keep people interested. The now-viral Netflix thread is just the latest example of big brands using social media in a more laid-back, carefree manner to interact with its consumers.
"We're seeing more and more of brands pushing the boundaries and using social media as a way to create synergy and tension among their competitors," Todd Bacile, an associate professor of marketing at Loyola University New Orleans, told NBC News. "In the process, social media and brand managers have more liberty to post things that might have never been posted a few years ago."
He's not wrong. Humor works, especially people who can pull it off in under 280 characters. This is the sort of wholesome but provocative content we all need in our lives. There's too much horrific news that comes out each week that can get us all down — why not use the power of social media to make people laugh every once in a while, too?
We can always count on Twitter for a case of the funniest, but this one may just take the cake. Happy Friday, everyone.
This article was originally published on