Viral thread reminds us sometimes in love, it's the little (and often silly) things that matter most
When you've been with someone for a long time, sweeping, romantic gestures often give way to normal, everyday moments that are otherwise unremarkable to anyone but you and your partner. Which is why this viral thread asking people to share the "non-romantic" things their partners do for them has produced some adorable, hilarious responses.
And they're all relatable AF.
Twitter user Hattie Gladwell asked users to share one thing their partners do for them that's not typically considered "romantic" but makes you love them even more just the same.
Quote this tweet with one thing your partner does that's not necessarily romantic but makes u love them a bit more

mine runs me a bath every night without asking and puts the kettle on in the morning!

— hattie gladwell (@hatttiegladwell) August 2, 2018
And boy, did this thread not disappoint. If you've spent a significant portion of your adult life in a relationship with someone you love — these responses will have you nodding, laughing, and maybe even tearing up.
The list is endless; but, I love that he reads my blog, even when they are about the girliest topics. It shows that he believes in my talent and truly supports my dreams. 💕 https://t.co/wENsx882Ka

— untamed melodies | by Melanie (@untamedmelodies) August 3, 2018
As a writer myself, I feel this on a spiritual level. My husband most certainly doesn't read even 1/4 of the things I write but when he does, and he offers his support or compliments, it gives me the tinglies. Not even gonna lie about it.
This one made me LOL. Several times.
He lets me put my freezing cold feet on his warm body at night, even though he doesn't enjoy it https://t.co/Y1GGi2RWDI

— UN♡FFICIAL AMY (@unofficial_amy) August 4, 2018
HAHAHAHA. There's not a woman alive who hasn't done this. Repeatedly.
Checks with me before opening the shutters in the morning – to be sure I'm ready for bright light. #heofwhomiseldomtweet I am not a morning novelist. https://t.co/MCVw7Bibfd

— Sara Sheridan (@sarasheridan) August 3, 2018
OK, that is some serious consideration and please, partners everywhere take note. A gradual wake-up is like, one of the kindest things you can do for someone you love.
Puts ABBA on when I'm sad https://t.co/ni4PETXQUR

— naomi (@ncmmorris) August 3, 2018
Mamma mia, who doesn't need a little ABBA in their life when things are sour?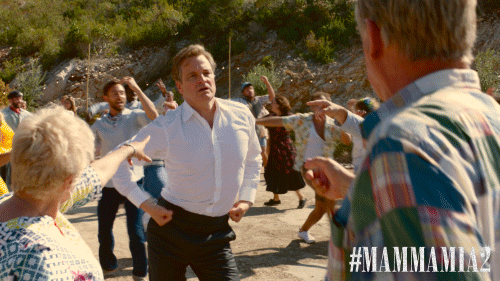 Some of the responses, while generally "un-romantic" in the traditional sense, were so sweet and considerate you'll feel your heart physically respond.
offers to brush my hair cause it's a nightmare n dives for my inhaler before I even get out a full cough https://t.co/Ak8CTEzEfH

— amy (@amzx00) August 3, 2018
My partner always knows when I need a break from walking and finds an excuse for us to sit down so I don't feel embarrassed about not having any stamina just now without ever mentioning it. He always treats me like I'm not sick and that's the best ☺️ https://t.co/OHeC7VlhAi

— Jen McGregor🍁 (@CrohnieClothing) August 3, 2018
Let's just take a minute here and give it up for all the partners out there who refuse to succumb to Netflix cheating even when it's super convenient and easy to do.
And of course, sometimes the truest partnership is the one you have with yourself, as this woman fantastically reminds us:
He does not exist, thereby giving me all the peace in the world. https://t.co/8QENBhsKpS

— Ashika (@AshikaRehana) August 4, 2018
My husband makes me memes and coffee daily, which is definitely something I appreciate. But not as much as the fact that he's always the one willing to call and order food because he knows I detest speaking on the phone — that alone is worth the marriage certificate right there.
Cheers to all the partners, romantic and not, who know sometimes it's the little things — like shaving our legs when we're pregnant and sending us dog pics —  that matter most.