Twitter Protests Donald Trump's Travel Ban With #GrandparentsNotTerrorists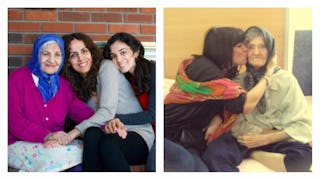 Image via Twitter
Apparently, grandparents don't count as "bona-fide" relationships. Twitter isn't pleased
The Supreme Court ruled to allow the White House to partially implement their travel ban against people from Muslim-majority nations without a "bona fide relationship" to people in the U.S. In response, the Trump administration created new guidelines determining what constitutes a "bona fide" relationship, and in so doing, exempted a fair amount of family members.
But not grandparents.
The State Department explained the Trump administration's interpretation as follows: "Any such relationship with a 'person' must be a close familial relationship." The following family members are not considered "close" by the Trump White House: Grandparents, grandchildren, uncles, aunts, and cousins.
Twitter isn't having it. On several levels.
Some people are mocking the Court's bizarre language.
But most of them are taking issue with the fact that their grandparents aren't bona fide, and are instead persona non grata. Using the hashtag "GrandparentsNotTerrorists," Twitter users are sharing photos of their nanas and papas to showcase their disgust with this latest incarnation of the travel ban.
A few accompanied their photos with questions about whether the person in it looks dangerous or looks like terrorists. (Honestly, I wouldn't ask that on Twitter. There are a lot of ignorant people who will answer "yes" without realizing – or realizing and reveling in – how bigoted they are.)
Of course, this being Twitter, some people went the jokey route to express their opposition.
This guy, like so many of us, is simply incredulous.
https://twitter.com/jetpack/status/880542211468914689
The specifications of the travel ban are a perfect example of why it's so ridiculous. It cuts such a wide swath, targeting enormous groups of people without any context, that most of those affected are bound to be completely innocent.
We used to be – or at least, we strived to be – a country that gave people the benefit of the doubt. Now, not only do we indiscriminately, um, discriminate, but in so doing we alienate so many of our own citizens, citizens who live here in order to take advantage of the freedom we hold so dear. Suddenly, that freedom is being whittled away in the name of fear, and the principles America used to stand for are being corrupted, subverted, and rolled back by an administration that feeds on the negativity they're stoking.
Twitter is fighting back with the exact opposite of that negativity, sharing precious photos of older generations for whom bringing their families to America was a dream. Now, it's turning into a nightmare.
This article was originally published on