This Twitter Thread On Kids' Favorite Memories With Parents Will Melt You
by Cassandra Stone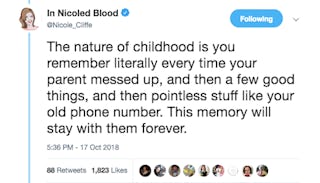 Image via Twitter/Nicole Cliffe
If you can swing it, taking your kids out of school to have a little fun might just give them a memory to last a lifetime
Remember those times throughout your childhood when your parent or caretaker would do something simple but profound in how special it made you feel? This viral Twitter thread is such a great reminder for all of us that the moments we cherished most as kids are exactly what we should be doing for our own.
Whether it was sending you to school with McDonald's after a doctor's appointment or letting you play "hooky," these are the moments with our moms and dads and loved ones that we all remember most. Writer Nicole Cliffe shared a tweet about how she takes her kid out of school early by surprise to have a solo date over ice cream — and why something so simple is so important.
She acknowledges that not all parents can afford that luxury, as her own parents couldn't. Which is perfectly fine! You can still have wonderful memories of your parents and be close with them as an adult even if they never pulled you out of school to watch The Price is Right.
But so many people shared amazing, heartwarming, silly, sweet stories of memories they have of those special moments with their own loved ones. And many of the responses will melt you.
Look at those faces though! School can wait one day.
Other people shared their own unique family moments that didn't involve playing hooky.
One Twitter user even shared her exchange with her mom, prompted by this viral thread.
Kids, just like adults, need mental health days too — and tbh, what better place to spend one of those than at an amusement park?
WHEW, IT IS DUSTY IN HERE YOU GUYS.
Looking back, some of my favorite "good" memories were the ones where I felt singled out and special. My grandparents used to let me sleep over their house every Saturday night, and they'd take me out shopping for new books or games, let me stay up late and eat whatever I wanted, and every Sunday morning, without fail, my grandpa would take me out to breakfast before I went home. Many, many painful things have happened between then and now — but those good, sweet memories where I felt cared about still stand out to me.
Parents just want to know we're doing a good job. So if you remember things like this from your own childhood, recreating these moments with your own kids surely can't hurt. And maybe someday we'll all get text messages from our large adult children thanking us for being "cool" and letting them have fun once in awhile.