If the creepy stories in this Twitter thread are real, so is reincarnation
There's not really any actual science that explains what happens to us when we die. But there are certainly a lot of theories, and reincarnation is one of the more interesting ones, for sure.
What if we got to come back as another being after our current lives end? What would that look like? A viral Twitter thread full of some pretty creepy stories might just hold some clues.
It all started with a story writer Valerie Williams shared about her son, who, TBH, might need a sage smudging.
while tucking in my son he casually told me he lived a life a long time ago where his name was Gerald and he had a brother Cole who was also his business partner and they died together in a car crash so plz join me in not sleeping at all tonight lol

— Valerie (@ValeeGrrl) December 28, 2018
"while tucking in my son he casually told me he lived a life a long time ago where his name was Gerald and he had a brother Cole who was also his business partner and they died together in a car crash so plz join me in not sleeping at all tonight lol," Williams wrote.
Just….holy shit.
SON: Cole was so sad we died cuz he really loved our momma but I wasn't too sad cuz I picked you to be my new momma

ME: pic.twitter.com/CWCxr5XDGr

— Valerie (@ValeeGrrl) December 28, 2018
OK, so that's terrifying. I don't want to be the one to suggest burning a child at the stake, but…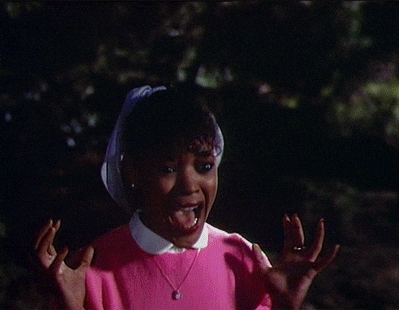 And fam, it gets worse. Because apparently kids do this kind of thing all the freaking time. Responses to the tweet started pouring in, and tons of them contained similar stories about reincarnation tales falling out of the mouths of babes. Terrifying, terrifying babes.
years ago my baby brother passed away and 9 months later i had a little sister born prematurely. when she was about 4 one day she told my mom "i'm glad to be with you guys again...god took me away cuz i was very sick but that made you really sad. so he told me i could come back."

— the dude (@tranquiliTwav) December 30, 2018
whilst my mum was pregnant, there were extreme complications. she was told she the baby would probably die.
then my dog (shadey) died suddenly and miraculously the complications went away. my mum gave birth to a healthy baby girl and as a toddler she told us she could see shadey.

— ☾ tasha (@httptxsha) December 30, 2018
Same thing happened w/ my son. His imaginary friend's name was Jon. My brother Jon died 2 years before my son was born. I had pictures of Jon, and I said one time to my son "he would have loved you", and my kid said "oh he does, and he misses you". I cried in the closet.

— Jaime Emerson (@jrw3780) December 30, 2018
When I was a toddler I was watching Mary Poppins with my Nan and I apparently turned to her and said "I watched this with you when you were a little girl too" and she asked what my name was and I told her Maud, my nans Grandmothers name...everyone was freaked out lol

— Coley 🍄 (@narrpip) December 30, 2018
Obsessed with this thread. Only story I have that comes close is watching Antiques Road Show with my then 6yo, and they were showing an old old picture of Soldiers. She abruptly told me to change the channel because they were all dead and it smelled like dirt and onions

— Beth W. (@Beth_W77) December 30, 2018
My little cousin, never having seen the titanic, one day told us that he drowned while the titanic was crashing. He was able to recount historical facts, i.e when the boat departed and crashed, even though it's not a usual topic of conversation and he's never seen the movie. Wild

— samantha (@loldamnsam) December 31, 2018
So, um, this is fine. Everything's fine. I'm not freaking out, you're freaking out.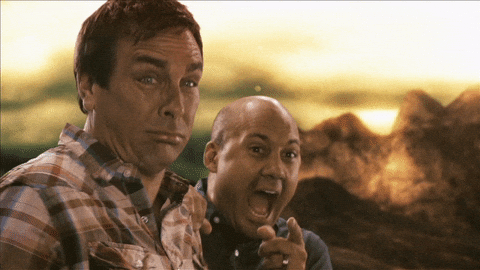 There are also a bunch of stories in the thread that aren't necessarily about reincarnation exactly, but seem to prove kids have a more tangible connection to other realms than adults do. Or something. This is all really freaky and IDK what to think honestly, other than it's time for a stiff drink.
my son told me he knew me as a child .
I often thank him for choosing me and he always straight faced says " you're welcome" we've been together a long time Mommy. He has a friend he calls Mr. Friendly that protects and plays with him. He says I'm a good mom. 😲

— Paula's Daughter (@ShaylaBGoode) December 30, 2018
my cousin who works at a bank once took her sons to work. as they were waiting, one of them randomly said to the lady sitting next to him that she was under arrest and has the right to remain silent. within a month that same person was arrested for stealing millions from the bank

— slendasamacatalogue (@marahjoanna) December 30, 2018
My mom died before I got pregnant and once I was bathing my daughter when she was 2 I said "I wish grandma got to see you" there was a pile of pictures on the tv (all windows closed dead winter no one in the house) and they all scattered all over the floor. Roger that ma.

— Mona Lisa (@ShineEyeShay) December 30, 2018
When I was little I saw an old lady watching me sleep and my mom thought I was nuts. Found a photo album as an adult with an old yellowing photo from 1910- she was my great great grandmother, and instantly recognized her as the lady who watched me sleep 😨

— Kate Bradford (@katehasablog) December 30, 2018
And of course, plenty of people are now wondering if the kids in their lives are renicarnated/demons/clairvoyants.
Me interviewing my young siblings about their past lives pic.twitter.com/8U6L4CiD9S

— fre$h cash. (@JustDesRae) December 30, 2018
Me trying hard to remember things from my past life after reading this thread pic.twitter.com/XyfhkkC7km

— Aditi, Highly Disobedient. (@NeloNwaBaby) December 30, 2018
Williams said this isn't even the first time her son horrified the family with stories seemingly from beyond the grave.
"He's told us stories like this many times before, so hearing it wasn't especially jarring. I'm not sure if this is legit a repressed thing from a past life or just him being creative, but either way, it's utterly 'him' and I wouldn't change it for the world. even if it does creep us the hell out," she told Scary Mommy. "I never expected this many people to relate and I have loved reading all the stories they've shared! It's definitely strengthened MY belief that this stuff is real."
Are kids reincarnated souls? Or just creepily creative? We may never know, but we might also be installing some crucifixes in the kids' rooms just to be safe.