Mom Of Child With Cancer Begs Parents To Vaccinate Their Kids In Viral Twitter Thread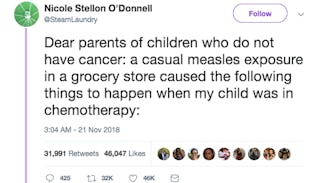 Image via Twitter/Nicole Stellon
A heartbreaking Twitter thread shows what happens to immune-compromised kids when parents don't vaccinate
There have been so, so many studies about the importance of vaccination. Here's another real-life, gutwrenching story to add into the mix. Nicole Stellon O'Donnell took to Twitter to pen a thread about the extremely harmful effects of parents choosing not to vaccinate have had on her 8-year-old daughter with cancer.
Stellon O'Donnell's daughter was exposed to measles while at a grocery store, and she shares the many painful repercussions that followed.
Once taken to the hospital, doctors had shut down the infusion room so that they could figure out all the details of her exposure. That disrupted the treatment of other children with cancer. They also had to shut down the exam room for cleaning which resulted in more patients not getting the resources they needed.
And, Stellon O'Donnell's daughter was quarantined for one month.
On a flight back home, the young girl had to wear a mask. "This may not seem like a big deal, but imagine being eight, bald, skeletal, without eyebrows and eyelashes *and* having to wear a face mask in public," Stellon O'Donnell writes.
There was a chance that kids in the clinic with Stellon O'Donnell's daughter would need to take shots of Neulasta to boost their white blood cell counts, which has painful side effects. Thankfully, that didn't end up being necessary.
Stellon O'Donnell added that she was relieved this happened during the summer, so that her daughter didn't have to miss out on school. She already missed three months while she was undergoing chemotherapy. "She would have been crushed to miss more," her mother wrote.
O'Donnell's thread went viral, with almost 46,000 likes and hundreds of comments. People stepped in with their own similar, heartbreaking stories.
Many applauded O'Donnell for sharing her story and – once again – reiterated the importance of vaccination.
O'Donnell concluded her thread with an incredibly simple, important message. "Please vaccinate your kids. Please get your #flushot," she says. "It's an act of compassion for the many children who need herd immunity because their immune systems are not working. #VaccinesWork."
Those with compromised immune systems — like people going through chemo, newborns, women who are pregnant — become more at risk for illness because of the uneducated decisions of a few. Don't be one of those few.
This article was originally published on