Twitter Eviscerates 'Wonder Woman 1984' Like Only Twitter Can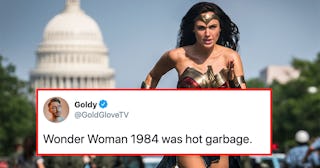 Clay Enos/Warner Bros.
Apparently "Wonder Woman 1984" did not go down well with Twitter users
Twitter users aren't known for their lack of opinions or for holding their tongues which is why we love spending time there. If you're looking to find out how other people felt about the new Wonder Woman film that dropped on Christmas Day, Wonder Woman 1984, look no further than the Twitterverse to give you everything you need to know.
WW84 hit theaters and streamed exclusively on HBO Max and many of us looking for something new to watch over the holidays were eagerly awaiting its release. Gal Gadot, DC Comics, and a familiar story of good versus evil seemed like the perfect way to spend a couple of hours. Plus, It's the first Warner Bros. film to be released on a streaming site the same day as its theater release date at no extra cost to viewers.
Unfortunately, the reviews are out and they are not good.
It's been over three years since Gal Gadot and Chris Pine played Diana Prince and Steve Trevor. Kristen Wiig also joined the crew as villainess Cheetah, so the cast was not lacking. But from the vast amount of opinions online, the script was lackluster, the special effects were laughable, and plot holes left fans feeling like the whole thing was a big waste of time.
Jill Lepore, who is the author of 2014's The Secret History of Wonder Woman, wrote in The New Yorker that, "the new film about a female icon ignores her history as a female rebel." She also said the film's director should pay more attention to the role women played during the times the films were set. Patty Jenkins … set her first Wonder Woman film during the First World War. And she set this new film in the Orwellian year of 1984. But she's apparently not at all interested in the history of women: it's got no place in either of her two Wonder Woman films, even though they both take place during major inflection points in that history, and even though the history of Wonder Woman, the comic book and the character, is inextricably bound up with the long, miserable, and unfinished struggle for women's political equality."
Twitter was not as eloquent and we love them for it:
Of course, you need to watch it for yourself to decide how you feel about the sequel. Plus, if you shelled out the additional subscription cost for HBO Max, you also now have access to Amy Schumer's documentary, Expecting Amy which follows her through her pregnancy and is an absolute delight.
Or, you can just take Twitters word for it and find another way to spend two hours of your life.