Two Female African-American Pilots Just Made Alaska Airlines History
by Thea Glassman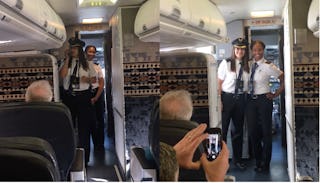 Image via Tara Wright/Facebook
Two female African-American pilots just made history
Ready for some really, really great news? History was made recently when an Alaska Airlines flight was piloted by two African-American women. Yup, that's right. Up until now, there wasn't a single Alaska Airlines aircraft that had ever been operated by two African-American women. Maddening that it took so long, but so, so amazing that it finally happened.
The flight from San Francisco to Portland, Oregon started out normally enough. Captain Tara Wright took to the microphone alongside First Officer Mallory Cave and wished everyone a happy Mother's Day. She also noted that it was her father's 80th birthday, and he was "roaming the countryside in Spain this morning."
Then she dropped the big news. "You're sharing a pretty interesting piece of Alaska Airlines history this morning," she told passengers. "You'll be piloted by two African-American female pilots, for the first time in Alaska Airlines history." Her announcement was met with lots of applause, and Wright quipped: "You're making [history] this morning, whether you're awake or not."
Wright shared the video of this hugely exciting moment on Facebook, and her post quickly pulled in more than one million views and thousands of likes. Messages of love and congratulations poured in.
Thankfully, there are more and more important milestones happening across various popular airlines. Last October, the first Southwest flight featuring an all-female flight crew took off to San Francisco from St. Louis. Okay, how happy do these pictures make your heart? Currently beaming so much.
Then, last March, Delta made history of its own when two African-American female pilots flew their first mainline flight with the airline. Capt. Stephanie Johnson later told the airline's blog that she now feels a huge responsibility to be "a positive role model."
'There are so few women in this profession and too many women who still don't think of it as a career option," she explained. "When I was hired by Northwest Airlines, there were 12 African-American women airline pilots in the country at the major airlines, and I knew all of their names. Today is very different, and though there are still people to inform, I am so thankful that the word is out."
Let's please keep these incredible milestones coming.
This article was originally published on