Two Injured Runners Out-Inspire The Whole Olympics In 5,000 Meter Race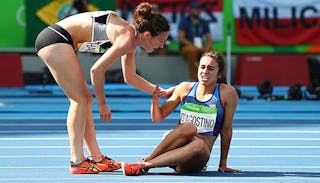 Image via Ian Walton/Getty Images
Injured runners help each other across the finish line of a 5,000-meter qualifier
Yesterday, we got to see a show of sportsmanship unlike any other in the women's 5,000-meter final at the Rio Olympics. Runners Abbey D'Agostino of the United States and Nikki Hamblin of New Zealand had about 2,000 meters left to go (or, about one mile out of an approximately three-mile race) when Hamblin fell, taking D'Agostino, who was right behind her, down with her.
When they first went down, it was D'Agostino (who easily could have blamed Hamblin for her fall and left her behind) who went back to help Hamblin, who was still on the ground and appeared to be in a great deal of pain. D'Agostino urged her to get up, telling her that this was the Olympics and they had to finish. She stayed with Hamblin till she got back on her feet and started moving again. Said Hamblin later to NBC, "That girl is the Olympic spirit right there…Like, I never met this girl before. And isn't that just so amazing? Such an amazing woman."
Remember, this was one of the qualifying heats that determined who would run in the Olympic final, but D'Agostino put that aside to make sure that her competitor was okay.
Then Hamblin returned the favor.
Once they both started running again, it was D'Agostino who had trouble continuing when her right knee, which she twisted in the fall, started to give out on her. She collapsed to the track. This time, it was Hamblin who returned to her competitor to encourage her and help her up. Hamblin helped D'Agostino to her feet and stayed back with her for a bit to try to keep her going before moving on to finish the race. D'Agostino, grimacing in pain the entire time, continued running and finished about thirty seconds after Hamblin.
After the race, officials agreed that D'Agostino and Hamblin's runs were affected by the collision (because eyes?) and have allowed both of them, along with a third runner who was also involved in the collision, to race in the final on Friday. Though it's unclear if D'Agostino's knee will allow her to compete, both runners have already done more to inspire us than any medal ever could.
"I'm never going to forget that moment," Hamblin said. "When someone asks me what happened in Rio in twenty years' time, that's my story…That girl shaking my shoulder, (saying) 'Come on, get up'."
You can watch the moment in this video from NBC.
This article was originally published on