For The First Time Ever, Two Women Carried The Same Baby
by Julie Scagell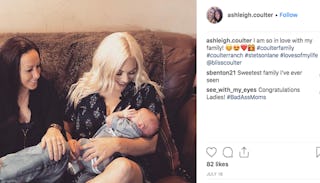 Image via Instagram/Ashleigh Coulter
Stetson was initially carried by mom Bliss, then transferred to his other mom, Ashleigh
Baby Stetson made his debut into the world five months ago and has been a "miracle baby" for his moms — Ashleigh and Bliss Coulter. But, he's also a miracle to the world, because he's the first baby to be carried by two women.
That's right — he spent the first five days inside of Bliss with a process called reciprocal effortless In Vitro Fertilization using an INVOcell device. "The eggs fertilized in her body and when they returned five days later, we removed the device and froze the embryos," Fertility specialist Dr. Kathy Doody told WFAA ABC 8. Then, doctors gave Ashleigh estrogen and then progesterone, waiting for the right time to transfer her wife's embryos to her body.
They got pregnant on the first try.
https://www.instagram.com/p/BmcBioGnnLO/?taken-by=ashleigh.coulter
"He's perfect," said Bliss. "Our cute little cowboy." Ashleigh added that she'd, "wanted to be pregnant for so long and so bad," and Bliss had always wanted a child but didn't necessarily want to carry one.
So, how did the process work exactly? Basically, it starts off like traditional IVF where Bliss went through ovary stimulation and egg harvesting. But, instead of placing the sperm and Bliss' eggs into incubators in a lab (a common practice called reciprocal IVF), they go into the chamber of the INVOcell device immediately after the eggs were retrieved. That device was then placed in Bliss' body for five days "where early embryo development begins."
https://www.instagram.com/p/Bomrz6Mnc1N/?taken-by=ashleigh.coulter
"It turns out, not surprisingly, that the woman's own body is a very good incubator," Doody said, clarifying how INVOcell works. "We have livers, kidneys and lungs so we're able to provide those same services to the embryo more naturally." That means maintaining the perfect environment for those critical early days.
https://www.instagram.com/p/BlZhsXIHJFp/?taken-by=ashleigh.coulter
Then, when Ashleigh's body was ready, the implantation took place. "Almost like passing the baton, like it's a relay race," Doody said.
https://www.instagram.com/p/Bi3Pan5nfep/?taken-by=ashleigh.coulter
"She got to carry him for five days and was a big part of the fertilization, and then I carried him for nine months," Ashleigh said. "So that made it really special for the both of us—that we were both involved. She got to be a part of it, and I got to be a part of it."
https://www.instagram.com/p/BfFMfAUgpP8/?taken-by=ashleigh.coulter
This process is also cheaper than traditional IVF, almost half the price at around $8000. The new moms have two additional frozen embryos they can use for future children, should they choose.
"I think it opens up new avenues, new choices for same sex couples," Doody said.
Another same-sex couple in Texas tried the procedure after Bliss and Ashleigh and also had success — their baby girl was born in September.