Tyler Perry Paid Off More Than $430,000 Layaways Just In Time For Christmas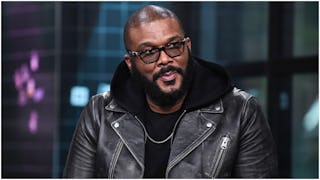 Image via Getty/Daniel Zuchnik
Tyler Perry paid off more than $430,000 in layaway items at Walmart
Santa should probably step aside this year. Tyler Perry paid off a whopping $432,635 worth of layaway items – and that's the exact kind of holiday cheer we need right about now. More Christmas miracles like this, please.
Perry took to Twitter to announce that he was covering an incredible amount of layaway items at two Walmart stores in Atlanta. "I know it's a hard time, a lot of people are struggling and I'm just really, really grateful to be able to be in a position to do this," he said. "…God Bless, go get your stuff, Merry Christmas."
For a brief, joyous moment, Twitter came together as one to applaud the filmmaker for his generosity. Some shared that they were struggling during the holidays and really appreciated that Perry was lending a helping hand to people in need.
https://twitter.com/jetpack/status/1070854697160986625https://twitter.com/jetpack/status/1070861615640141826https://twitter.com/jetpack/status/1070849641149796352
Perry isn't the only secret Santa who has granted a whole lot of holiday cheer. As of this week, strangers have paid off more than $130,000 in Walmart layaway items at four stores across the country.
"When customers quietly pay off others' layaway items, we're reminded how good people can be," Walmart spokesman Payton McCormick told CNN. "We're honored to be a small part of these random acts of kindness."
There have been so many amazing stories that have come along with these donations and they'll make you feel so, so warm and happy.
Like, during a recent trip to Walmart in Derby, Vermont, a man who called himself "Santa" paid for all of a woman's items and her layaways – and then proceeded to do the same for other customers in the store. There was also a Secret Santa who paid for all the Christmas layaways at a Walmart in Uniondale, New York, totaling $57,000.
"Thank you to the secret Santa that came in the store today and paid off all the Christmas layaway here at the Uniondale Walmart," the store wrote in a Facebook post. "Thank you again on behalf of the Uniondale Community."
Excuse me while we go sob from happiness that there's still goodness left in this world, and then rewatch A Madea Christmas in Tyler Perry's honor.