Tyra Banks Slays Cover Of Sports Illustrated At 45
by Thea Glassman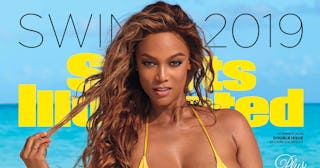 Laretta Houston/Sports Illustrated
Tyra Banks was on the cover of the new Sports Illustrated and…wow…
So, fair warning here. There's a whole lot of fierceness and smizing and a teeny tiny yellow bikini up ahead. Tyra Banks decided to come out of modeling retirement to do a photoshoot for Sports Illustrated, 23 years after she made history as the first black woman to appear on the magazine's cover.
Banks retired from modeling over a decade ago and now, at 45, she's back in full force with a ridiculously scorching magazine cover. Sports Illustrated revealed pictures and video from her shoot and it's gonna make you want to put on your OWN barely there bikini.
"This is for everybody that has been told that they are not good enough because of their body, their age, their everything," Banks wrote on Instagram. "#BanX is here to tell you that you ARE friggin' fierce no matter what anybody says! Drop mic now!"
There's a whole lot more where that came from. Banks also recreated the tiny polka dot bikini shot from her first solo cover and looked just as good now as she did then. "We couldn't find the exact one in the archives — it was the polka dot bikini so we recreated that bikini," she told Good Morning America. "I recreated it [the shoot] — 25 pounds heavier."
The mogul/supermodel/television host/professor said that her experiences with Sports Illustrated have consistently been a wonderful, exciting surprise. "Being the first black woman on the cover, I didn't dream it, because I never thought it was possible, almost like this," she recalled. "I never thought it'd be possible – I'm 45 years old on the cover of this magazine again."
Alright, so what's the secret to looking like that at 45? Apparently it's all about good skincare.
"A lot of people have told me that I look younger than I actually am. I really think it's because I started exfoliating at birth!" she told PEOPLE. "My mother always told me it doesn't matter how much makeup you wear, if the canvas isn't right, you're going to look clumpy, lumpy, patchy and dry."
And, yeah, good genetics help too. "My mom is almost 70 and she looks really young, too. It's in our genes to look a lot younger," Banks explained to TODAY. Before you get too depressed, she also added that her "booty has dropped" and I think we can all very much appreciate that realness.
Okay, so, I guess we should probably spend the rest of today re-watching America's Next Top Model and practicing our smizes. Wanna be on top?