Tyson Recalls Over 36,000 Pounds Of Chicken Nuggets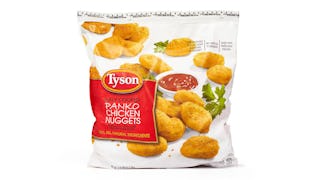 Image via Tyson
Tyson is recalling a type of their chicken nuggets for possible rubber contamination
In news that might end in an 80 percent reduction in calories your child will consume this week, Tyson is recalling over 36,000 pounds of chicken nuggets for an extremely gross reason.
Yes, a possible main staple in your child's diet, 5-pound bags of Tyson White Meat Panko Chicken Nuggets, are being recalled because "extraneous material, specifically rubber," may be found in them. In a statement from the US Department of Agriculture's Food Safety and Inspection Service, officials urge consumers to check their freezers for the offending nuggs, which were produced on November 26, 2018. They have a "use by" date of November 26, 2019 and a case code "3308SDL03" on the label.
The products were shipped to stores nationwide, so this recall isn't specific to just one area. The involved nuggets bear establishment number "P-13556" inside the USDA mark of inspection. The USDA says the problem was discovered due to consumer complaints about finding the foreign matter, which, ugh. Huge thoughts and prayers to whatever tired parents went to heat up some nuggets for a quick and easy dinner but instead, discovered rubber chunks. That is nasty.
Luckily, the USDA reports that there were no reports of adverse reactions, illness or injury due to the contaminated chicken.
It seems like food recalls are a pretty regular thing in recent months with common items such as romaine lettuce, ground beef, cauliflower, and cake mix all being recalled for various reasons. With the addition of chicken nuggets, we're down to precious few things our kids will actually eat since lettuce and ground beef problems kind of put us off taco night for a bit. Thank heavens for pizza, which so far, seems safe AF. As long as it doesn't have cauliflower crust, that is.
Also a relief? The government is finally back up and running after a 35-day shutdown that meant some serious reduction in domestic food inspection. These recalls aren't fun to hear about, but it's much preferred that we get these notices from the government instead of finding rubber in our nuggets and having no recourse.
Consumers with questions about the recall can contact Tyson Consumer Relations at 1-888-747-7611.
This article was originally published on