Uber Just Lost Its License To Operate In London
by Christina Marfice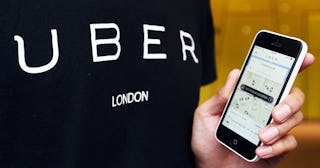 Carl Court/Getty
Will Uber lose its ability to operate in other cities after London denied it a license?
Transport for London (TfL) just denied rideshare app Uber a license to operate in the city, saying that the app isn't "fit and proper" to offer taxi service to London residents after a "pattern of failures" to keep riders safe.
This is huge, as London is one of the five cities (including New York, San Francisco, Los Angeles, and Sao Paulo) that provide nearly a quarter of Uber's total global revenue. It also follows years of scandal for the company, including a lot of questions about rider safety when they use the app.
This latest move comes after Uber has been fighting with regulatory authorities in London for years. The company first lost its license to operate there in 2017, and this time is actually a continuation of that. The company was granted two extensions to continue operating after losing its license in 2017, the latest of which ran out Sunday. This time, though, no extension has been granted. That means that Uber now has just three weeks to appeal the decision. It can continue to operate in London during the appeal process, so as of now, this won't affect the 45,000 Uber drivers who work in London, or people who use the rideshare service.
TfL officials said a number of safety concerns led to this decision. One was a change to Uber's systems that allowed unauthorized drivers to upload their photos to established driver accounts, basically taking over accounts without undergoing any background checks or other safety procedures. In just 2018 and 2019, officials found that this loophole resulted in at least 14,000 fraudulent trips on London alone.
In addition to that, regulators found that drivers who had previously had their accounts suspended or removed were sometimes able to create new accounts and start driving again.
"While we recognise Uber has made improvements, it is unacceptable that Uber has allowed passengers to get into minicabs with drivers who are potentially unlicensed and uninsured," Helen Chapman, Director of Licensing, Regulation and Charging at TfL, said.
London Mayor Sadiq Khan added, "I know this decision may be unpopular with Uber users, but their safety is the paramount concern. Regulations are there to keep Londoners safe."
Now the big question is whether other cities will follow suit and hold Uber to higher safety standards. The company has been plagued by scandals for years, including reports about criminal activity by its drivers, toxic company culture, sexual harassment, and unfair labor practices for drivers. If you've been following Uber in the news, you probably already switched to Lyft or another rideshare app. If you haven't, now might be a good time to do that.