The UK's First Chick Fil-A Is Closing After Only A Few Days In Business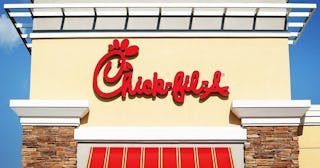 Alex Wong/Getty
Amid protests in its first days of business, the country's first Chick-fil-A is set to close in six months
It only took a few days of protests for the United Kingdom's first Chick-fil-A location to announce that they'd be closing the store in six months. It all stemmed from a boycott led by Reading Pride, a local LGBTQ advocacy group, due to the fast food chain's opposition to same-sex marriage.
The Oracle, the Reading mall where the new Chick-fil-A leases space, told the BBC it would not allow the restaurant to stay in their space after its "initial six-month pilot period" calling the chain's eventual closure "the right thing to do."
For their part, Chick-fil-A claims they never intended for their stay across the pond to be a long one. "We have been very pleased with the lines since opening Oct. 10 and are grateful for customer response to our food and our approach to customer service," the company said on Saturday. "We mutually agreed to a six-month lease with the Oracle Mall in Reading as part of a longer term strategy for us as we look to expand our international presence."
For Reading Pride, the decision to oppose the chain's presence in the UK was an obvious one. "We are staunchly opposed to Chick-fil-A setting up shop in the UK and certainly in Reading," the group said on Twitter. "The chain's ethos and moral stance goes completely against our values, and that of the UK as we are a progressive country" with the UK legalizing gay marriage and "continues to strive toward equality."
Dan T. Cathy, the company's chairman and chief executive, was quoted in 2012 saying that Chick-fil-A believed in "the biblical definition of the family unit." The quote came after news reports that Chick-fil-A had donated money to groups working to stop the legalization of gay marriage. Think Progress reports that over the years, Chick-fil-A's foundation has donated money to the Fellowship of Christian Athletes, the Paul Anderson Youth Home and the US Salvation Army. Reading Pride says all of these groups have a history of being intolerant to the LGBTQ community.
The Oracle said "We always look to introduce new concepts for our customers, however, we have decided on this occasion that the right thing to do is to only allow Chick-Fil-A to trade with us for the initial six-month pilot period, and not to extend the lease any further."
Reading Pride is on board with the mall's decision to give the store six months before closing calling it a "reasonable request… to allow for re-settlement and notice for employees that have moved from other jobs."
For their part, Chick-fil-A claims their charitable giving isn't political in nature. "Our giving has always focused on youth and education. We have never donated with the purpose of supporting a social or political agenda," they tell the BBC.