The Mask Mandate Was Lifted In U.K. Schools Last Month––Here's What Is Happening
by Elizabeth Broadbent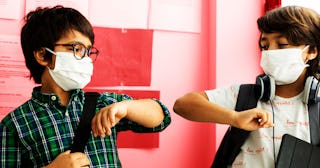 Scary Mommy and Westend61/Getty
On May 6th, Great Britain's Standard reported that the U.K. Education Secretary Gavin Williamson announced plans to lift the mask requirement for secondary school students. He claimed, "Removing face masks will hugely improve interactions between teachers and students," which apparently was enough justification to strip what "five unions representing teachers and support staff, as well as scientists, public health experts and parents" called in a public letter "one of already too few mitigation strategies" to prevent COVID-19 transmission in schools. The U.K. mask mandate was lifted on May 17th.
Britain's lifting its mask mandate prompted many of the same reactions that lifting mask mandates had in America, but muted, because England. The Guardian does not report any cases of parents screaming about masks somehow equating "child abuse," calling mask mandates "Orwellian," or "comparing them to Nazi Germany," like parents at a June 14th Crook Country Oregon school board meeting. Some U.K. kids were happy they didn't have to wear their masks anymore. One English mother, who works as a nurse for the National Health Service, told The Guardian that, "I feel like it's too quick a removal. The infection rates are going down, and we are doing so well, but we still have a variant about. So why stop now and risk another lockdown?"
British teachers' unions also worried about their government lifting the mask mandate. Kevin Courtney, the joint general secretary of the National Education Union, said to The Guardian that, "We all want to see an end for the need to wear face masks. However… it is disappointing the government has lifted the recommendation for them to be worn in secondary classrooms."
Then A Month After The Mask Mandate Lifted…
Now the teachers' unions are really pissed. In a very polite, English sort of way.
A statement signed by signed by the National Education Union, Unison, the GMB and Unite, four major teachers' union in the U.K., have called for an immediate "reintroduction of face coverings for students and staff in all areas of secondary schools, including classrooms," according to The Guardian, which would "limit transmission and prevent the risk of closures."
COVID-19 cases in kids skyrocketed: one in every fifty secondary school kids was "absent for Covid-related reasons before half-term break." On May 27th, ten days after the mask mandate was lifted, the same number of kids had confirmed COVID-19 cases, but suspected cases had soared to 19,000, and the number of children self-isolating because of contact with suspected COVID-19 cases climbed 50%: from 60,000 kids to 90,000. That's a hell of a lot of kids.
These numbers are not available for American schools. Draw your own conclusions as to why, which isn't to imply some sinister plot so much as gross incompetence.
This Is Not A Shock.
A CDC study published way back in March found that universal masking was "associated with a decrease in daily COVID-19 case and death growth rates within 20 days of implementation… Mask mandates… can help limit community transmission of COVID-19 and reduce case and death growth rates." To summarize: mask up, and people don't die.
According to NPR, children in the United States now account for more than 22% of new COVID-19 cases — and one year ago, they were only 3%. Some of that is "school and school-related activities," says Dr. Sean O'Leary, vice chair of the AAP's Committee on Infectious Diseases. The CDC, according to Newsweek, has said that "Significant secondary transmission of SARS-CoV-2 infection can and does occur in school settings when prevention strategies are not implemented or are not followed." This scientific mouthful means: your kids don't mask, your kids get COVID-19.
This is now happening in the U.K.
But It's Not The Mask Mandate! It's… Something Else?
While looking at Great Britain and the United States is generally like comparing apples to M-16s, when it comes to COVID-19, the juxtaposition holds — sort of. 45% of the U.K. population is fully vaccinated; a slightly lower 44.2% of the US population is vaccinated, though that varies by region. While "barely any" 16- and 17-year-old British children have received a COVID-19 vaccine, and no one younger is eligible for vaccination, The New York Times reports that 2.5 million teens and tweens have been jabbed in the United States.
The catch: the United States started immunizing adolescents so recently that the first vaccinated kids have just achieved total immunity. So in this case, the argument that comparing Covid-case spikes to yanked mask mandates holds, despite the United States' vaccination program.
But there is one important difference about British and American vaccination schedules. The U.K. has pushed the recommended 3-week waiting period between vaccinations to twelve weeks. That's given them more time to partially immunize more people, therefore hopefully preventing more hospitalizations and deaths. Evidence suggests that this may have been a successful gambit for the fully vaccinated: a study found delaying that second Pfizer dose boosted antibodies more than threefold in patients over 80 years-old, says Nature.
However, another U.K. study shows that one dose isn't strong enough to protect against variants — and England has several circulating. Those one-dose, partially vaccinated people are, as we say in America, screwed. The Delta variant, first found in India, has forced Prime Minister Boris Johnson, Britain's slightly less orange and charismatic version of Donald Trump, to delay reopening the country by a month, according to Reuters. The Delta variant is believed to be 60% more transmissible than other strains — and that, as one researcher said, "a full vaccination is really vital" to attain full protection against it.
We shouldn't be shocked that COVID-19 cases have risen in children as the British mask mandate was lifted — especially when we take the Delta strain into account. The CDC has proven, over and over, that when schools don't require masks, COVID-19 cases increase. Unfortunately, The Guardian says, "The government has so far ruled out" reintroducing a nationwide mask mandate in schools. However, local areas have the power to reintroduce one if they see fit.
Hopefully British parents will not howl about Orwell, and if they do, they'll at least understand the reference to 1984.
Back Across the Pond…
Britain's a case study in mask mandate removal. Without comprehensive child vaccination programs (read: herd immunity), removing mask mandates will lead to a rise in school-related COVID-19 outbreaks. Our kids can't ditch their masks unless they're fully vaccinated.
If your kid's in public, indoors, unvaxxed, and unmasked, your kid's at risk. They're at risk on a subway; they're at risk in a store, and they're at risk in a school. Classrooms don't have magic anti-Covid pixie dust, and a cement truck full of hand sanitizer won't protect your second grader from aersolized germs. The Brits have discovered that it's not worth unmasking your kids. And with Dr. Scott Gottlieb, the former commissioner of the Food and Drug Administration, telling CBS's Face the Nation that the Delta Variant will likely become the dominant U.S. Covid strain, the virus will only become more transmissible.
So quit your cutesy "Free the Smiles" rallies and cover your kids' faces. Say it slowly: Lifting mask mandates increases Covid cases.