Uma Thurman Posts Ominous #MeToo Message To Harvey Weinstein On Instagram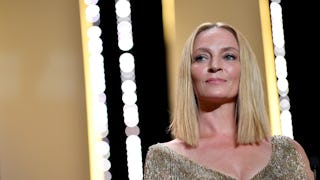 Image via Pascal Le Segretain/Getty Images
Uma Thurman shared a little message to Weinstein on Thanksgiving
Since a New York Times article went to print detailing decades of abuse and harassment allegations against Hollywood mogul Harvey Weinstein, women have been coming forward to voice their own stories of abuse at the hands of the producer. Uma Thurman was recently asked about her thoughts regarding all of the abuses that are coming to light, and her response broke the internet because it was so raw and intense.
"I don't have a tidy soundbite for you, because I've learned — I'm not a child, and I've learned that when I've spoken in anger I usually regret the way I express myself," she said in an interview, through gritted teeth. Yes, the anger was palpable. And now, she's hinting that she may be ready to uncover more — via an ominous message she shared on Instagram yesterday.
"I am grateful today, to be alive, for all those I love, and for all those who have the courage to stand up for others," she wrote in her Thanksgiving message. "I said I was angry recently, and I have a few reasons, #metoo, in case you couldn't tell by the look on my face. I feel it's important to take your time, be fair, be exact, so… Happy Thanksgiving Everyone!" She posted next to an image of herself as the bride from the movie Kill Bill, which Weinstein produced. In the movie she played a woman who dedicated her life to avenging the murder of her unborn child — and who methodically and ruthlessly tortured and killed her abusers. So the end of her message is poignant — and foreboding.
"Except you Harvey, and all your wicked conspirators," she wrote in parentheses. "I'm glad it's going slowly – you don't deserve a bullet. Stay tuned."
People immediately began flocking to Twitter to react:
All support to Thurman for breaking her silence — and doing it slowly and painfully.