Quentin Tarantino's Treatment Of Uma Thurman During 'Kill Bill' Will Make Your Blood Boil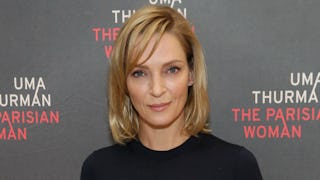 Image via Walter McBride/WireImage
Uma Thurman has broken her silence on Quentin Tarantino
Recently, Uma Thurman's New York Times interview about Harvey Weinstein and the #TimesUp movement was published. The actress had plenty to say about how Weinstein treated her, but also told the world about what she experienced while working with Quentin Tarantino on the film series Kill Bill.
Thurman's revelations about Weinstein's abuse were horrific, but the way she was treated by Tarantino, Kill Bill's director, is similarly gut-wrenching. Tarantino has been lauded for his work on Kill Bill, a series that absolutely embodies the empowerment of women. But what Thurman has revealed about the way Tarantino treated her while filming the movies undermines it.
It all stems from that infamous scene in which Thurman's character is driving a blue convertible. She explained that a teamster had given her a heads up that the car wasn't in great shape, so when Tarantino told her he wanted her to drive it herself instead of using a stunt driver, she objected.
"Quentin came in my trailer and didn't like to hear no, like any director," she said. "He was furious because I'd cost them a lot of time. But I was scared. He said: 'I promise you the car is fine. It's a straight piece of road. Hit 40 miles per hour or your hair won't blow the right way and I'll make you do it again.' But that was a deathbox that I was in. The seat wasn't screwed down properly. It was a sand road and it was not a straight road."
Thurman ended up losing control of the car and crashing it into a tree. There's footage from a camera mounted inside the car, and it's pretty harrowing.
"The steering wheel was at my belly and my legs were jammed under me," Thurman said, describing the moments just after the car crashed. "I felt this searing pain and thought, 'Oh my God, I'm never going to walk again.' When I came back from the hospital in a neck brace with my knees damaged and a large massive egg on my head and a concussion, I wanted to see the car and I was very upset. Quentin and I had an enormous fight, and I accused him of trying to kill me. And he was very angry at that, I guess understandably, because he didn't feel he had tried to kill me."
Thurman then detailed the process she had to go through to get Tarantino and Miramax, the studio funding the film, to admit any fault for her injuries, or even to allow her to see the footage of the accident. Miramax reportedly told Thurman she could have the footage if she signed a document "releasing them of any consequences of my future pain and suffering." She chose not to.
Thurman says Tarantino's dismissal of her continued as filming wrapped and they had to travel together to promote Kill Bill. "We were in a terrible fight for years. We had to then go through promoting the movies. It was all very thin ice. We had a fateful fight at Soho House in New York in 2004 and we were shouting at each other because he wouldn't let me see the footage and he told me that was what they had all decided."
For years, Thurman gave up on finding justice for the way Tarantino treated her. It was the #MeToo movement and the flood of allegations against Weinstein, forcing her to relive her own "dehumanization to the point of death" that inspired Thurman to pick up where she left off with Tarantino, trying to get him to give her the footage that showed the dangerous position he put her in.
"Quentin finally atoned by giving it to me after 15 years, right?" she said. "Not that it matters now, with my permanently damaged neck and my screwed-up knees… When they turned on me after the accident, I went from being a creative contributor and performer to being like a broken tool."
The crash was just a turning point for Thurman, who had been mistreated by Tarantino without "feeling disempowered" for a long time. In the New York Times article, she notes that he acted as a stand-in for other actors during filming of some of Kill Bill's more sadistic scenes, like one where a man spit in her face, and another where he choked her with a chain. Thurman's longtime friend and fellow actor, Jessica Chastain, weighed in to criticize Tarantino for that behavior. Her insight is dead-on.
It's no wonder Thurman is so angry. What she's been through would be enough to break many women. Yet somehow, she's emerged from the other side, ready to speak her truth and make sure predators like Weinstein and Tarantino are finally, officially, canceled.
"Harvey assaulted me but that didn't kill me," she said. "What really got me about the crash was that it was a cheap shot. I had been through so many rings of fire by that point. I had really always felt a connection to the greater good in my work with Quentin and most of what I allowed to happen to me and what I participated in was kind of like a horrible mud wrestle with a very angry brother. But at least I had some say, you know?"
She continued, "Personally, it has taken me 47 years to stop calling people who are mean to you 'in love' with you. It took a long time because I think that as little girls we are conditioned to believe that cruelty and love somehow have a connection and that is like the sort of era that we need to evolve out of."