Uma Thurman Reveals She Had An Abortion As A Teen In Powerful Op-Ed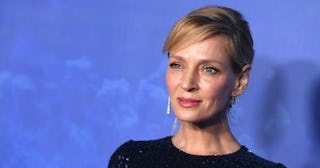 Kevin Winter/Getty Images
"I can assure you that no one finds herself on that table on purpose."
Actress Uma Thurman is speaking out against the new Texas abortion law that bans abortion after six weeks. She called SB6 "radical" in an Op-Ed for the Washington Post, and shared publicly for the first time that she herself had an abortion as a teenager just starting her acting career.
"In the hope of drawing the flames of controversy away from the vulnerable women on whom this law will have an immediate effect, I am sharing my own experience," she wrote. "You might not be interested in the opinions of an actress, but given this new outrage, I feel it is my responsibility to stand up in their shoes."
She went on to share the details of her story.
"In my late teens, I was accidentally impregnated by a much older man. I was living out of a suitcase in Europe, far from my family, and about to start a job. I struggled to figure out what to do. I wanted to keep the baby, but how?"
Thurman recalls agonizing over what to do, talking it over with her parents at a time when her mother was critically ill and in the hospital. It was the first time she had ever spoken openly with them about sex.
"They asked me about the status of my relationship — it was not viable — and warned me how difficult it would be to raise a baby as a teen on my own," Thurman recalled. "My childish fantasy of motherhood was soundly corrected as I weighed answers to their very precise questions. I was just starting out in my career and didn't have the means to provide a stable home, even for myself. We decided as a family that I couldn't go through with the pregnancy, and agreed that termination was the right choice. My heart was broken nonetheless."
With the help of a relative, she sought an abortion in Germany.
"It hurt terribly, but I didn't complain," she wrote. "I had internalized so much shame that I felt I deserved the pain."
All these years later, Thurman said she can still recall the kindness of the doctor who performed the procedure (who told her that she reminded him of his own daughter), and how much it meant to her to be seen for what she was: still a normal young woman, just one in a tough spot.
Thurman called the abortion, "my darkest secret until now," but also said she has no regrets — though that doesn't mean it was easy for her, then or now.
"The abortion I had as a teenager was the hardest decision of my life, one that caused me anguish then and that saddens me even now, but it was the path to the life full of joy and love that I have experienced," she wrote. "Choosing not to keep that early pregnancy allowed me to grow up and become the mother I wanted and needed to be."
The 51-year-old wrote that she didn't have anything to gain by sharing her story nearly three decades later other than perhaps providing some solace to anyone going through the same agony she did.
"In revealing the hole that this decision carved in me, I hope that some light will shine through, reaching women and girls who might feel a shame that they can't protect themselves from and have no agency over. I can assure you that no one finds herself on that table on purpose."
Thurman then said she was "grief-stricken" by the particulars of the Texas law, which empowers vigilantes to pursue legal action against anyone who has, assists, or performs an abortion. She ended with a message of courage for those who might find themselves in the same position she was so many years ago — except without a safe, legal way to make the best decision for themselves.
"To all of you — to women and girls of Texas, afraid of being traumatized and hounded by predatory bounty hunters; to all women outraged by having our bodies' rights taken by the state; and to all of you who are made vulnerable and subjected to shame because you have a uterus — I say: I see you. Have courage. You are beautiful. You remind me of my daughters."