I Read Omarosa's Book, And I Hate To Admit It But I Kind Of Relate To Her
by Brandi Jeter Riley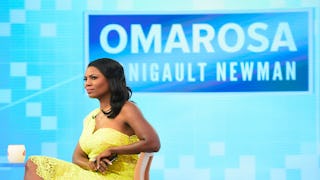 Getty | Raymond Hall
I was first introduced to Omarosa Manigault Newman (then Stallwarth) during the first ever episode of Donald Trump's television show, The Apprentice. A budding reality show junkie and entrepreneur myself, the show was right up my alley. When I started to watch it, I was not disappointed. There were lots of business lessons sprinkled throughout, but most importantly, there was drama.
Omarosa was usually at the root of a lot of the chaos, too. At the time, I thought she often got a bad break. She unapologetically admitted that she wasn't there to make friends, and I didn't think there was anything wrong with that. After all, it wasn't personal — it was business. Her goal was to get a job working with Donald Trump, and that's all she was there to do. I liked her.
Over the years, though, Omarosa seemed to change. It seemed like she started to play into the villain role. From her attitude to her actions, her ego seemed out of control. I tried to keep rocking with her, because who says black women have to be nice all the time? But, when she decided to support Trump's candidacy for president, I had to let her go.
To my surprise, 15 years after appearing on The Apprentice, both Omarosa and Donald Trump ended up in the White House. WTF is happening?!
Omarosa became the director of communications for the Office of Public Liaison after Trump became president, but the role didn't last long. Manigault Newman was fired a little less than a year after starting the position.
Her loss is our gain, though. Because of her displeasure at the way things went down at the White House, Omarosa blessed us with all of the tea in Unhinged, an exposé on, among other things, her relationship with Trump from its very beginning.
I told myself I wasn't going to read her book. But then someone told me that she narrates the audio version and does a great impression of Trump, so I had to get it. I told you, I'm a reality show junkie. Anyway, the book surprised me. Omarosa was vulnerable as she shared what life was like for her growing up poor and hustling her way all the way to her first stint at the White House working with the Clinton administration. She also talks about a miscarriage and losing her fiancé who died laying in the bed next to her. It has been a rough road for Omarosa.
The most compelling part of the book to me was hearing how she felt about Donald Trump. At first, I couldn't stop rolling my eyes as she referred to him as her mentor and friend. I thought maybe she was laying it on thick in order to justify being in cahoots with someone who is so controversial, especially to people in her own community.
As I kept listening, though, I started to believe it. Then, and here's the part that's hard to admit, I started to understand it.
As a black woman, there are often so many barriers that get in the way of our success. While we do what we can to pull ourselves up and do what we need to do to win, it's always helpful to have some help. Many of the white men who are the gatekeepers don't see our value. We are too loud, too "aggressive," too much for some white women. Because so much of success is all about who you know, we have a harder time because no one wants to know us. So when a successful billionaire starts looking out for you and helping you get a seat at the table, and most importantly, a paycheck, it's easy to overlook some of their flaws.
You might start thinking things like: He can't be racist if he's helping me. How can he hate women if he always looks out for me? He's loyal and never forgets to bring me along. He can't be that bad.
Omarosa got caught up. And I get it. In the book, I learned that she was on a pre-campaign committee for Hillary Clinton, and wasn't asked to continue once the campaigning started. I can't tell you how many times I've been overlooked for promotions even after I've already been doing the job. You get tired of being treated like you're disposable, so you go somewhere that will appreciate what you have to offer. Omarosa becoming Trump's Director of African American Outreach during his campaign was that somewhere for her.
There's something to be said for loyalty. Donald Trump hired Omarosa over and over again, and even gave her the opportunity to be the star of her own television show. Once he reached out to bring her on his campaign and eventually into the White House, I understand why she would feel like he was her friend and put her reputation on the line to work with him. He was looking out for her, she was looking out for him.
Omarosa is obviously smart. This book, along with the tapes and videos she allegedly has, prove that she's cunning as well. While I still don't agree with most of the things she says or does, after reading Unhinged, I get it. It's survival of the fittest. Eat or be eaten. She's playing a game that white men have been playing since the beginning of time.
I think that's what makes people uncomfortable. I still think Trump and his policies are abhorrent, but by the end of the book, I was cheering Omarosa on. Being conniving and throwing a friend (even if it is Donald J. Trump) under a bus isn't my style. But if folks are going to get paid off of his demise — why not her?
This article was originally published on