UNICEF Display Is Reminder That 168M Kids Have Not Been In School In A Year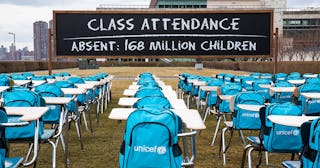 Chris Farber/UNICEF/Getty
UNICEF stages a striking installation in New York to remind everyone of the empty classrooms around the world
For many students across the U.S. and around the world, we are reaching the one-year anniversary of remote learning. As families globally consider the consequences of another school year spent at-home, UNICEF has called on governments everywhere to do everything in their power to prioritize kids getting back to safe, in-classroom learning. To do this, UNICEF erected a "pandemic classroom" installation outside the United Nations in New York showing 168 empty desks and backpacks to represent the 168 million children worldwide for whom schools have been completely closed since last March.
"168 empty desks. 168 unused backpacks. 168 million futures hanging in the balance," UNICEF writes on social media. "This pandemic classroom installation at the United Nations in New York is a powerful reminder of the global education crisis. The desks and backpacks represent the 168 million children whose schools have been completely closed for nearly a year due to COVID-19. Our message to world leaders is clear: no effort should be spared to reopen schools."
UNICEF's message is clear and it's that governments worldwide need to do better in prioritizing the reopening of schools and to prioritize reopening them better than they were before.
"We cannot afford to move into year two of limited or even no in-school learning for these children. No effort should be spared to keep schools open, or prioritize them in reopening plans," Henrietta Fore UNICEF Executive Director said in a statement.
UNICEF provides the following guidelines on how best to reopen schools, but over here in the U.S. where each state makes their own rules, it can feels hopeless and futile. Since the start of the pandemic, many have criticized states like New York for offering indoor dining but keeping schools closed. Others lamented when the CDC director said schools could reopen without vaccinating teachers first. Also, the New York Times just pointed out that only 4% of school-age children even live in an area that meets the CDC's thresholds to safely reopen schools for full in-person learning. The only good news is that vaccine administration is ramping up and COVID-19 cases are falling, and although President Biden has said he wants kids back in schools, we're still waiting to see how the U.S. will actually prioritize the safe reopening of all schools.
"As we approach the one-year mark of the COVID-19 pandemic, we are again reminded of the catastrophic education emergency worldwide lockdowns have created. With every day that goes by, children unable to access in-person schooling fall further and further behind, with the most marginalized paying the heaviest price," Fore continued.
In March 2020, nobody ever thought we'd still be in the same situation, but here we are, so what are our leaders going to do about it?