Unicorn Accessories That Will Make Your House Seriously Magical
by Team Scary Mommy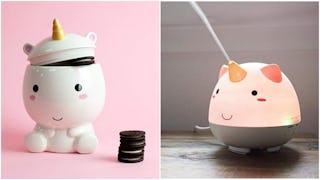 Image via Amazon
These unicorn accessories will fill your house with all the magic sparkle
Does your house need a little extra oomph? Are you extremely bored with all of your usual decorations? If that's the case, I'd like to turn your attention immediately to quite possibly the cutest unicorn-themed houseware you'll ever see. Seriously – nothing will bring more magic into your life than a bunch of sparkly, smiling unicorns.
Clean the air in your home with an extremely adorable unicorn humidifier. This cutie provides moisture, has an LED light, and comes complete with an essential oil diffuser. Win-win-win.
Is it a reheat leftovers/ramen noodles type of night? Get it done with this microwave-safe bowl featuring the cutest little unicorn you'll ever see. It might just make those leftovers taste a littttle bit better.
Your kid's fear of the dark has officially met its match. This plush, snuggly unicorn lights up in rainbow colors and will help scare away all of the bad ghosts. Also, it's perfectly acceptable if you would like one of these for your room as well. We could all use a super soft, rainbow unicorn in our lives.
Okay, ready for some real-life magic? This unicorn's tail will turn rainbow when you pour hot liquid into the mug. Your early mornings desperately slurping down coffee just became so much more bearable.
Is your sweets stash kept in a crumpled old oreo box/some miscellaneous plastic bag? If so, I'd like to direct your attention to this extremely adorable chubby unicorn cookie jar. All that's missing is a "GO AWAY…PROPERTY OF MOM" sign.
This pretty, sleek dish is the very best motivator to put your jewelry in its proper place. You know, rather than leaving a bunch of earrings by the sink and hoping for the best.
Because, yes, you ARE a fucking unicorn, damnit.
Tea time might have seemed bougie at some point, but you'll definitely change your mind after seeing this matching unicorn tea pot and cup. Bring on ALL of the crumpets.
Now, go buy all the magical things and prepare for a large dose of sparkle. You deserve it, you unicorn queen, you.
We are a participant in the Amazon Services LLC Associates Program and may earn fees by linking to Amazon.com and affiliated sites.
This article was originally published on