Magical Unicorn Makeup 'Cuz You're An Adult And You Do What You Want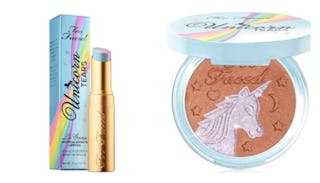 Image via Amazon
This unicorn makeup will make you feel all kinds of magical
Please raise your hand if you're a full-fledged adult and still think unicorns are literally the most wondrous creatures out there. Okay, now I'd like to turn your attention immediately to Amazon and Sephora, where they're selling a whole plethora of magic-packed unicorn makeup. Prepare for so much colorful glow.
Meet your new holographic lipstick obsession. Unicorn Tears is packed with shimmer, rich in moisture, and comes in a sky blue/soft pink color. It changes color based on your body temperature and if that's not real-life magic I don't know what is.
I'll be the first to tell you that I know very little about highlighters but I can definitely get down with this one. It's a pretty, shimmery rainbow, made from crushed diamond powder and light reflecting pearls. Will you turn into a magical unicorn princess after one use? Yup, I think so.
Nothing will put you in a better mood in the morning than when you open up your compact and see a glittering unicorn inside. This goodie features a warm bronzer and holographic highlighter, so you'll pack twice the glow.
This lipstick actually changes color throughout the day, so that's legit real-life unicorn magic right there. It's creamy, has a soft coral color, and comes with Too Faced's "signature sweet unicorn scent." Yes, yes, and yes.
Put some of these unicorn tear highlighter drops on your face and prepare for all the sparkly, mystical glow.
Speaking of highlighters, this one is shaped like an actual horn and has a pearly, glossy finish.
This lip gloss is super glossy, non-sticky, and changes color with the light. This is the perfect pick for a night on the town or a glamorous trip to the grocery store (whatever, you can look like magic while you buy toilet paper).
This is the holy grail of unicorn wonder. It comes complete with a very, very cute make up bag, that includes Unicorn Tears lipstick and two highlighters. Warning…you will feel like this after using these products:
Here's to becoming the mystical unicorn queen you are. Now, go ride all the rainbows.
We are a participant in the Amazon Services LLC Associates Program and may earn fees by linking to Amazon.com and affiliated sites.
This article was originally published on