Unicorn Taco Holders: Because Who Doesn't Like Unicorns And Tacos?
by Valerie Williams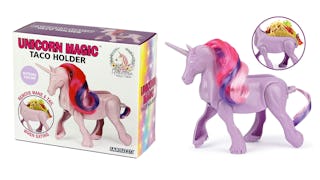 Image via Amazon
Unicorn taco holders are your new favorite thing
The holiday shopping season is in full swing and if you're that obnoxious person who can't stop talking about how they're already done shopping, please stop doing that. For those of you that still need gift ideas, we've got you covered. Behold: the unicorn taco holder.
Because sometimes, we can have nice things.
Look at this galant and noble (and magical) steed that you can buy on Amazon immediately if not sooner.
Yes, you have to take off all that lustrous unicorn hair so as not to get it in your tacos. Or taco in the hair. But is there a better way to eat a taco? We think not.
Gotta admit — it looks a little weird and naked without it's mane and tail, but absolutely no one wants to try to scrub dried-on salsa, sour cream, and guac out of unicorn hair. Now, you can eat your taco without it falling apart and making a mess while also being very whimsical. There's no downside to this at all.
Basically everyone who uses it is extremely pumped to have done so.
Whatever, kid — you'll make a mess no matter what mythical creature is lending its magical assistance. This unicorn is for Mommy.
Quick FYI for y'all — just because there's nothing better than tacos doesn't mean that's all you can do with this $30 miracle product. Expand your mind, man. Think outside the shell.
We're officially done using actual plates now, everyone. Why bother when you can have a unicorn or, and get ready to have your mind blown, a TACOsaurus Rex?
No need to stop there. If you're wanting more than one or two tacos (and, hello, does anyone eat just one or two tacos?) this little ceramic Chihuahua is here for all your triple taco needs.
And if three's a crowd and one's too lonely, allow this big guy to help you out with a double dose of taco goodness.
The future is here, you guys. There's no plates anymore, only animals. And tacos. Looks bright AF to us.
This article was originally published on