11 Of The Most Unique Celebrity Baby Names Of 2018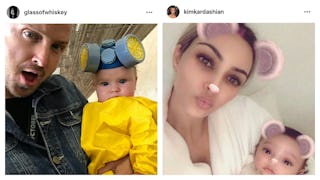 Aaron Paul/Instagram Kim Kardashian/Instagram
Celebrities: They're just like us! (Okay, well, kind of like us.) They go to great lengths to choose the perfect baby name. But while it takes thousands of not-so-famous parents naming their babies a certain name to start a trend, just one celebrity baby name can spark a wave of popularity.
Take the name Knox, for example. In 2008, it wasn't even a blip on the popularity charts (the Social Security Administration's yearly database of the top 1,000 most popular names). But after Angelina Jolie and Brad Pitt named their son Knox that year, it experienced an explosion – from its debut at #705, to #459 the next year, and still rising to its latest rank of #232.
The celebrity baby names of 2018 all have the power to change the charts, but it's the ones with the most unique names that we're most curious about. Will these names catch on and go from obscure to trendy? Let's shine a spotlight on some of the more unique names celebs have given their babies this year, and how they chose them.
Rani
Kate Hudson and Danny Fujikawa named their daughter Rani Rose. It's pronounced "Ronnie," and is in tribute to the baby's late paternal grandfather, Ron Fujikawa. "Ron was the most special man who we all miss dearly. To name her after him is an honor," said Hudson in an Instagram post announcing the birth.
https://www.instagram.com/p/BofAAF4BNz6/
Chicago
Kim Kardashian and Kanye West chose the name Chicago Noel for their newest daughter, paying homage to the city where Kanye was raised. Kardashian said on The Ellen Show about Chicago, "That is a place that made him. And a place that he remembers his family from. He really wanted his mother's name, and I love that name too, I just wasn't sure … it's so much to live up to. I just felt like Chicago was cool and different."
Pemau
Orange is the New Black actress Yael Stone and partner Jack Bancroft gave their daughter the unique name Pemau in honor of her indigenous Australian ancestry. "She was named after her great-great-great grandmother who provides a powerful link to the past, the Bancroft's oldest link to the Djanbun clan of the Bunjalung nation," Stone's rep told US Weekly.
Iver
Model Coco Rocha and husband James Conran chose Iver Eames for their new son. There's been no official statement on why they chose this particular name, although it's most likely because it continues the "i-name" theme started by his older sister: Ioni James.
Kulture
Rappers Cardi B and Offset gave their new daughter the name Kulture Kiari. Since their own birth names are Belcalis Marlenis Almanza and Kiari Kendrell Cephus, the unique nature of the name they chose makes sense. Cardi B herself seemed to confirm this when she tweeted "Kulture," (followed by emoji hearts) "anything else woulda been basic Okrrrrr." Also, the most recent albums of Migos, Offset's rap trio, are named Culture and Culture II … and considering that Cardi B told Ellen DeGeneres that Offset chose the baby's name, that seems less than coincidental.
Stormi
When Kylie Jenner was asked by London newspaper Evening Standard about how she and rapper Travis Scott chose their daughter's unique name, she said that initially it was going to be Storm, but that it just didn't feel right. However, the name Stormi did. "I feel like there were a lot of other names that I might have even liked better, to be honest, but I feel like Stormi picked her own name, like it was just her name," Jenner said.
True
In other Kardashian/Jenner baby news, there was the birth of Khloe Kardashian and boyfriend Tristan Thompson's daughter, True. Proud grandma Kris Jenner took to Instagram to explain the family ties behind the name: "My grandfather's name on my dad's side was True Otis Houghton … my real Dad's name was Robert True Houghton … so I am so excited Khloe named her daughter True!"
Gio
Singer Adam Levine and his wife, model Behati Prinsloo, gave their second daughter the name Gio Grace. She joins sister Dusty Rose. Gio can mean "farmer" or "of the earth," so maybe little Gio's parents wanted to stick with the earthy vibe (because you can't get much more earthy than Dusty). Either that or they liked the option of having the adorable nickname "G.G."
Cairo
There are several reasons why actress Tia Mowry-Hardrict and husband Cory chose Cairo Tiahna as their daughter's name. First, they wanted the initials "C.T.H." to match those of their son, Cree Taylor Hardrict. Tia also explained in a Facebook video that Cory feels "closer to his mother" when he's on a plane, so he wanted the letters A-I-R in the name: hence, Cairo fit both criteria.
As for little Cairo's middle name, they chose Tiahna because of its link to Tia, obviously, but also after Disney's first African-American princess, Tiana. (Interesting to note: Dwayne "The Rock" Johnson and Lauren Hashian also named their daughter Tiana, no "h." The name was at #599 in 2009, but after The Princess and the Frog came out that year, it jumped to #334. It's fallen back to the 600s now, but could we be seeing a resurgence of the trend?)
Ennis
Actors Kirsten Dunst and Jesse Plemons named their son Ennis Howard. Could it be because the two met on the set of Fargo during season two, and there was a character on the show named Ennis the very next season?
Story
Aaron Paul shared the origin of the name Story – the daughter he welcomed with wife Lauren – on Jimmy Fallon. And it's a doozy. After meeting Lauren at Coachella, their official first date took place in Vegas, where they bought their (potential future) baby a leather jacket and then decided to … wait for it … get married. But the chapel was closed, so they went to play blackjack instead, winning $16K in the process. Since this such an epic tale, the couple decided to commemorate their story with a living, breathing Story.
It's still too early to determine if this year's unique baby names will touch off any trends (the SSA's next name list will be released next May), but we predict there will be more than a few little Ranis and Chicagos running around. Only time – and the popularity charts – will tell.
Naming a baby can be scary. We can help! Check out our baby name database and fun name lists here.
This article was originally published on