33 Things Your Family Should Do Before The Kids Are Grown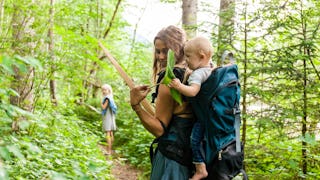 WESTEND61/GETTY IMAGES
What are the fondest memories of your childhood? Maybe it's thoughts of simpler times like the summer ritual of walking to the gas station in flip-flops just for an orange push-pop with the family. Perhaps it's small-town fairs, cotton candy hands and never-ending tickets to spin around on the merry-go-round.
Maybe it's something extravagant like the magic and wonder of Disney World, or even visiting the ancient ruins.
Whatever it is about my childhood memories that continues to give me all-of-the-feels, I want that for my children. I hope they grow up to look back on their childhood as the time when life was simple. I want to give them memories to remember, and I want to indulge in their belief of magic for just a while longer. To do that, we've compiled this bucket list:
1. Slide down the stairs on a mattress.
So what if your full head of hair turns gray within 15 minutes? Have you ever seen The Princess Diaries 2? Come on, all the princesses are doing it. Plus, it's free. Win-Win!
2. Buy a star and let your child name it.
After you've bought the star, make sure you buy a telescope too. Let your child name and show off "their star" to friends and family. Indulge in their possible love for astrology, you never know what they might like unless they are introduced.
3. Toss a coin and ditch the map.
Leave all electronics at home (or at least in the trunk). Get in the car with snacks and a coin. Whenever you're forced to turn right or left, flip the coin. Heads — turn right. Tails — turn left. See where you wind up, and stop at charming places along the way.
4. Paint rocks for a family rock garden.
My hometown is huge on painting rocks and hiding them throughout well-populated areas for the kids to find and re-hide. While my family does partake in this fun, small-town charade, we also paint our own rocks for a garden in our backyard. My husband and I even join in on the fun too, and we date all of the rocks on the back for a little pick me up of nostalgia when needed.
5. Make a DIY slime Slip N' Slide.
Am I bonkers? Maybe. But is this SO much freaking fun? As someone speaking with personal experience, HELL. YES.
6. Visit every state at least once.
Instill a sense of adventure and make it to every state in the U.S. at least once. (Bonus points for purchasing meaningful souvenirs along the way.)
7. Take a creative class together.
Arts and crafts stores as well as some recreational centers usually have sign ups for classes on all things crafty and creative. Learn how to sew, paint, or sculpt something as a family.
8. Spend the night at a museum or zoo.
Sleep with the animals — those that are living or those that are prehistoric!
9. Say yes (within reason) to everything for a day.
Being a parent, sometimes I feel like our main mantra is, "No, no, no, no." Be cool for a day or two and say yes to everything your kid asks for within reason.
10. Make and bury a time capsule.
I'm all about the sentimental things. And what is more sentimental then a shoebox filled with riches being dug up ten years later? Nothing, that's what.
11. Go geocaching.
What is it? Kind of like a tech-world treasure map. You hunt for hidden objects by using a GPS coordination posted on a website.
12. Spend a night on the beach.
Just the thought of it relaxes me. Don't forget the supplies for s'mores around the campfire!
13. Swim with dolphins.
Because, really…. who doesn't want to swim with dolphins?
14. Go to a drive-in theater.
Chances are, there is at least one drive-in theater near you. If you have a truck, take that. Stuff pillows and blankets (or even a blow up mattress) in the bed of the truck, and watch a movie with the family beneath the stars. This is hands down the best way to watch a movie.
15. Play in the rain often.
Be a cool parent, not one of those "it's too wet outside" parents. Teach your children that poor weather doesn't make for a boring day.
16. Let them play hooky from school.
You need personal days too, don't ya? Kids are no different. Break the rules every once in awhile, and do something fun on these missed days.
17. Walk behind a waterfall.
How cool would it be to feel the cool spray of a waterfall touching your legs and face while walking behind it? Joy is found in the simple things like this.
18. Learn another language together.
The benefits of learning a second language are plentiful, from a greater appreciation for cultural diversity to increased critical-thinking skills.
19. Build something together that lasts.
Get outside and build a tree house, a structured fort or a pirate ship. Your children won't forget all of the little things like this that you do together.
20. Go ice skating.
Even if you suck at ice skating, do it. Your kids will love seeing you fall straight on your rump time after time again.
21. Play baseball with water balloons.
Kids love anything water balloon-related. Take a baseball bat and a bucket of water balloons outside on a hot day and cool off with each balloon that's hit.
22. Go canoeing or kayaking.
Don't just take your family to swim in the water, let them ride the water too. You can make a day out of this with river routes near to where you live.
(Don't forget the life jackets!)
23. Do good work for others.
Not everyone has everything they need, teach your children that. Volunteer at the soup kitchen, help a struggling family at Christmas, or make sanitary and snack bags for the homeless when you're traveling through a big city. Our children are the future of tomorrow, let's raise them up right.
24. Pan for gold.
Sit on a riverbank with a shallow pan and find a few flakes of gold. Your young child will love pretending like he's a pirate finding gold.
25. Go rock climbing.
This one is for the daredevils in the family. Get that adrenaline pumping and take the climb well worth the pursuit.
26. Plant a tree.
My grandpa and I built a tree when I was five, and it's still standing 20 years later. It's name is Annie. Every time I drive by that old house, I still remind the entire vehicle that I planted that 50-foot tree when it was just 6-inches tall.
27. Fill water balloons with paint and make art.
Buy a huge canvas from the arts and crafts store, fill water balloons with paint and throw them with all of your might at the canvas to see what you can create. Hang it somewhere in the house for memories of a day well-spent.
28. Give them a birthday party to remember.
Go all-out if you can. Whatever they might want for their party, make it (and more) happen.
30. Have a silly, candid photoshoot.
For once, let your family pictures show what your family is really like. Don't worry about the outfits or the hair. Find a pretty location, bring your family photographer along and let them capture the family you really are.
31. Dig for sand dollars.
Shuffle your feet in the shallow ocean waters, look for circular formations in the sand or drift through seaweed floating along the shore to find these washed up sea creatures.
32. Dress up with your kids for Halloween.
Look up some family-friendly coordinated outfits online. Have your kids be crayons while you and your husband wear something resembling a scribbled sheet of paper.
33. And, of course, visit Disney World.
This isn't so much an "out of the box" thing to do as it is the magic ticket to being the most fun parent in the world to your Disney-crazed kids.
We don't get nearly enough little moments with our children before they are grown. But the moments we do… let's make them worthwhile.
This article was originally published on