United Airlines Makes Girls In Leggings Change Before They Can Board Flight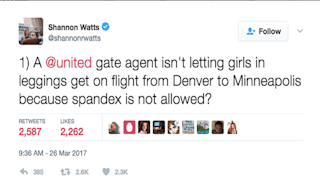 United made a group of girls change before they could board their flight
United Airlines is facing some backlash after a gate agent in Colorado demanded a group of girls in leggings change their clothes before they'd be allowed to board. Unfortunately for United, activist Shannon Watts was there and witnessed the whole thing.
Watts, the founder of the group Moms Demand Action For Gun Sense took to Twitter to describe the scene to her 32,000 followers.
Whoever is running United's Twitter account finally responded to Watts.
Wait, what? I've worn leggings on literally every flight I've taken for the last decade. On what planet does it make sense to ban pants that offer a full range of motion and comfort on a flight?
A 10-year-old girl? Since when do gate agents police the dress of women and girls on flights? Also, I dare anyone reading this to try to remember the last flight they took where they didn't see at least a dozen leggings on board. Leggings are made for flying. Need I mention again the full range of motion and comfort?
United came back a few hours later to offer an explanation.
A United Pass traveler is one who is employed by the company (or friends and family using the company pass travel privilege). So you can't wear leggings? What are you supposed to wear? A gown? A suit? How is a 10-year-old in leggings not appropriately dressed to "represent United?" Also, need we mention again that her father in shorts got on with no issue? How are shorts dress code okay and leggings not?
Also, do fellow travelers have any idea that anyone is a "pass traveler?" How exactly are they "representing United" if no one even knows?
So. Many. Questions.
Twitter chimed in, of course.
United continues to respond, but it's still not making sense.
Think it's time to update that dress code, United.