United Flight Attendant Hand-Delivers Lost Breastmilk To Mom Of Four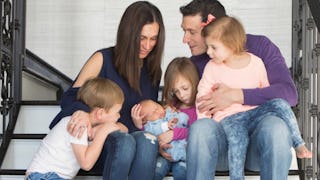 Image via Rachel Braverman
This flight attendant went above and beyond for a mom in need
United Airlines slogan is "Fly the friendly skies," and for one stressed out mom who thought she'd lost days worth of breastmilk on her flight, this has never been more true. That's because a flight attendant found it and what he did next is pretty much the best customer service ever.
Last week, Rachel Braverman was coming back from a trip to Disney with her husband and three kids under five (god bless them). Her four-month-old, Brent, stayed behind with grandma, because as Braverman tells Scary Mommy, "we all know Disney at four months just isn't magical for anyone."
During the trip, the mom of four said she was pumping between Magic Kingdom adventures to make sure she had a supply ready for baby Brent when she got back home. When it was time to go, Braverman says, "I delicately packed up my roughly 100 ounces of milk in the black travel lunch bag I brought for the occasion, stuffed it with ice and went on my way." She stored it under the seat in front of her on the plane but, as anyone with kids has experienced, she got sidetracked trying to get all the kids and their travel paraphernalia off and forgot the milk bag.
"Fast forward about an hour, I was in my kitchen alone with my husband, beginning to unpack and exclaimed, 'I have to put the breast milk in the fridge!' I could not believe I had forgotten to put it away!" she says. "And in that same moment, I realized what I absolutely could not believe — I had left it on the plane." She immediately started to cry, and who can blame her? To top it all off, this was Mother's Day Sunday, so the poor mom attempted to put on a happy face and go enjoy it.
Later that night, her husband said, "I think they found your breast milk. Let me send you this text I just got." The texts came from Jeff Nowotny, the United flight attendant who found her milk."Don't worry! I have been keeping it on ice all afternoon!" he told her.
But wait, there's more.
Not only had he been taking care of her bag all day, he volunteered to drop it off at her house. "He told me that he was still in Miami, but would be flying back to Newark shortly, due to land around 11:30pm. Not an instant passed before he offered to drop the milk at our house!! 'It's Mother's Day and I know how important this stuff is. Don't even worry about it,'" he said. Seriously, can we all get a Jeff in our lives, please?
Needless to say, Braverman was grateful that a complete stranger would go out of their way to help someone in need. "The next morning, after I unwrapped my milk surrounded in nearly 10 pounds of ice, I told my husband we needed to make sure everyone at United was made aware of his grand gesture," she tells us. "Lucky for me, my husband owns nuts.com, which is sold on United flights, and he was able to quickly let the right people at United know what had happened."
She said she also added him on Facebook so everyone she knew could understand just how much the kindness of strangers can turn a horrible situation into something remarkable. "Lucky for me, I can now call him a friend of mine," she said. "We still have yet to meet, but have been speaking regularly and as he told me yesterday, it feels like family."
This article was originally published on