United Airlines Is Now Offering Gender Choices For Nonbinary Fliers
by Christina Marfice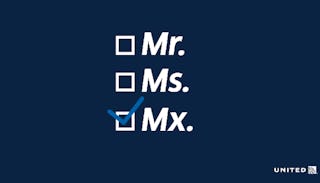 Image via United/Twitter
United Airlines is now the first U.S. airline to offer gender non-binary booking options
Flying isn't generally the most fun thing to do. There's the lines, the lack of leg room, the high prices. But for some people, booking a ticket on an airline is more than an unpleasant chore — it's downright demoralizing. And United Airlines is taking steps to help change that.
United announced today that it will be the first U.S. airline to offer passengers non-binary gender options when they book their tickets, and on their frequent flier profiles. This is a small change for a corporation to make, but huge in terms of its potential impact.
In all United Airlines booking channels, as well as on their MileagePlus customer profile, if they have one, flyers can now select "Mx." as their title rather than the previously standard "Mrs.," "Ms." and "Mr." Passengers also have the option to identify their gender as M (male), F (female), U (undisclosed) or X (unspecified), which means there are now options that a whole lot more people will feel comfortable selecting.
"United is determined to lead the industry in LGBT inclusivity, and we are so proud to be the first U.S. airline to offer these inclusive booking options for our customers," United's chief customer officer, Toby Enqvist, said in a statement. "United is excited to share with our customers, whether they identify along the binary of male or female or not, that we are taking the steps to exhibit our care for them while also providing additional employee training to make us even more welcoming for all customers and employees."
That additional training Enqvist mentioned came from the Human Rights Campaign and the Trevor Project, two nonprofits that are dedicated to making the world more inclusive and equitable for people of all genders and sexual orientations. Both organizations applauded United in statements.
"At the Human Rights Campaign, we believe being acknowledged as the gender you identify with is part of treating everyone with dignity and respect. By providing non-binary gender selection for ticketing and the gender-inclusive honorific 'Mx' in user profiles, United Airlines is taking an important step forward for non-binary inclusion," Beck Bailey, acting director of the Human Rights Campaign's workplace equity program, said.
Added Amit Paley, CEO & Executive Director of The Trevor Project, "The Trevor Project is grateful for United Airlines' support of our life-saving work on behalf of LGBTQ youth. We are thrilled to bring Trevor's expertise on the mental health of LGBTQ people to United to ensure its employees maintain safe and inclusive spaces for LGBTQ employees and guests."
The move is also making positive waves on social media, where people are celebrating United's commitment to letting customers "fly how you identify."
While this certainly won't take all the pain and aggravation out of flying, it will make the process better and more inclusive for many, and that in itself is a win to be celebrated.