Universal Orlando Now Has A Naked Troll That Farts Glitter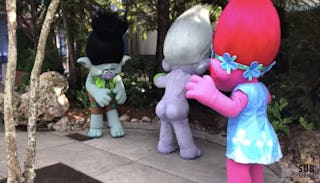 Image via YouTube
Guy Diamond is part of a Trolls meet-and-greet where he does his famous glitter fart
Bet you never anticipated 2019 being the year a weirdly well-sculpted Troll butt would fart out literal glitter for your entertainment, and yet, here we are. Universal Orlando has added a butt-naked Troll with fabulous flatulence to its character lineup and either you'll love it or raise a serious eyebrow.
Either way, you need to see this to believe it.
What in the world is funnier to kids ages three and up (um, and adults) than a fart? Add some glitter and you've got yourself a deal, my friends. That's why this new Guy Diamond bit that features the popular Trolls character doing a sparkly toot has Universal Orlando guests nothing but delighted. Feast your eyes.
That was pretty exhilarating, right? Time to price out flights to Orlando and see this in person.
Attractions Magazine reports that Guy is joining fellow Trolls Branch and Poppy, who have been doing meet-and-greets at the park for awhile now. Note that they are, in fact, fully clothed. It's only Guy's naked booty shooting out shimmery gas to wow the crowd. But look how sparkly and fun he looks. If I looked that adorable naked I'd never wear clothes either.
Also note if you're not a Trolls aficionado that Guy letting one rip is kind of his thing. He does it in the movie so it's not like executives at Universal were sitting around trying to think of how they could work random sparkle farts into their characters' routines. They're just staying true to the movie's plot and Guy's character, which we should all find refreshing, TBH.
Amid Guy's glorious debut, the internet has thoughts both enthusiastic and pissy. Because of course.
The park's website lists out six times daily when the Trolls can be met, including gassy Guy, and if you're asking us, it's not nearly enough. The world is truly devoid of pure joy these days and what could bring more happy to your heart than a glitter cannon Troll butt? Nothing, that's what.
Lastly, please understand that this isn't all Hollywood-style glamour, y'all. It's literally someone's job to clean up after Guy's fancy shart.
What a time to be alive.