This University Is Offering Free Tuition For Families Making Less Than $56K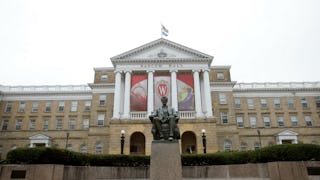 Mike McGinnis / Getty
With rising tuition costs, college is quickly becoming so expensive that some families can't afford it.
But this fall, the University of Wisconsin-Madison is going to start offering free tuition for in-state students whose family's annual income is $56,000 or less.
You read that correctly: free tuition.
The program is called "Bucky's Tuition Promise," and it's the latest move by a major university to try to make college more accessible and affordable for low and moderate income families. Beyond the income requirement, the program doesn't include any additional requirements or other qualifying factors.
"Many low and middle income families in Wisconsin simply don't know whether they can afford to come to UW-Madison," said UW–Madison Chancellor Rebecca Blank.
"We know there's a perception that UW–Madison is financially out of reach for some of our Wisconsin families, and we know this keeps some high school students in our state from applying here," said Blank. "We don't want this to be the case any longer. Going forward, we are removing the cost of tuition as a barrier for these families."
Nationwide, students (and parents of students) are struggling with the rising costs of education, and similar programs are popping up at colleges around the country. In fact, six other Big Ten schools, including Illinois, Michigan, Minnesota, Northwestern, Ohio State, and Purdue, offer similar income-based pledges.
The message from these schools is loud and clear: No prospective students should feel like they can't afford a college degree.
"We are saying to these Wisconsin families, in the clearest and most concise way possible, that if your student applies here and is accepted, we will cover the cost of tuition and fees — plain and simple," said Derek Kindle, director of the UW-Madison Office of Student Financial Aid, in a press statement.
The Bucky's Tuition Promise award will be based on the information provided on students' Free Application for Federal Student Aid, or FAFSA. No separate application is required to receive the funding.
According to USA Today, participating students will still be eligible for additional financial aid (such as grants, scholarships, and loans) to cover other costs, including books and housing, which are not included in the free tuition program.
So how much will this program cost the university? According to CNBC, the University of Wisconsin-Madison expects about 800 students per freshman class will qualify for free tuition under the new program. It includes free tuition for eight semesters for incoming in-state freshmen or four semesters for in-state transfer students.
WPR states that in-state students at UW-Madison currently pay $10,533 a year in tuition and fees, and the university estimates the program will cost around $825,000 a year, per class. By 2022, the annual cost of the program is expected to reach $3.3 million. But the university expects to fund it using private gifts rather than tax dollars.
It's certainly easier than putting the burden of tuition on families who are already struggling. These programs are also helpful for families who might not otherwise qualify for financial aid. Especially when the only alternative is student loans, which I know from personal experience, accrue interest quickly and can become seemingly insurmountable.
Programs like these are certainly a step in the right direction. No student should ever feel like they can't get a college degree simply because they can't afford one.
This article was originally published on