Urban Decay Is Releasing A Stunning 'Game Of Thrones' Makeup Line
by Thea Glassman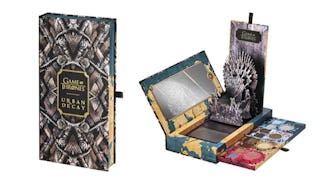 Image via Urban Decay
You're going to need every single item in Urban Decay's new Game of Thrones makeup line
There's only one bit of solace around the fact that Game of Thrones is about to end forever. Urban Decay released a first look at their GOT makeup collection and it's ridiculously, luxuriously pretty. So, you're about look real cute with your new eyeshadow and lipstick, all while sobbing your way through the final season.
The collection will launch on April 14 and features thirteen products, including lip and cheek stain, eye pencils, lipsticks, and a highlighter palette. But this is no ordinary makeup collection. It's all kinds of cool, as evidenced below.
Everything is insanely rich, royal, and pretty. Like, this lip and cheek stain which is Dracarys-themed and looks exactly like a vial of blood. Apply a few drops and you'll be all set to summon Drogon.
There's also this Glide-On Eye Pencil which comes in the color Dragon Smoke. It's black with holographic purple-y blues and will make you feel (and look) like the Queen of Dragons you were born to be.
You can also snag the eye pencil in an icy white, with a shade called Winterfell Snow. Because, you know, winter is coming and you might as well look as fierce as possible.
You can also snag a bunch of rich, creamy lipsticks, from the deep red Daenerys Targaryen:
To the metallic, chocolate-y brown Cersei Lannister:
Things get even more crazy gorgeous with the Mother of Dragons highlight palette. It features three shades (Drogon, Viserion, Rhaegal) and will give you a whole heaping of pretty glow.
All eyeshadow brushes will quiver in the shadow of the Jon Snow Longclaw eyeshadow brush. Will you rule the Seven Kingdoms after using this? I mean, probably yes.
More of an Arya Stark kind of gal? Go with this very pretty, very fierce Needle eyeshadow brush.
And now the pièce de résistance. An eyeshadow palette that comes with twenty colors and literally has a 3D pop-up Iron Throne. It is guaranteed that you will feel like GoT royalty after opening this bad boy.
Are you officially feeling all kinds of regal? Elegant? Ready to capture the kingdom?
Counting down the days until April starting right now. Winter is coming and it's coming really, really soon.