Urban Decay Is Releasing A 'Game Of Thrones' Make-Up Collection And It's Stunning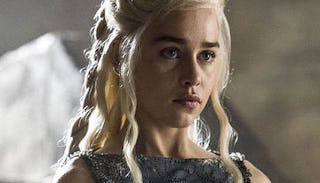 Image via HBO/IMDB
Urban Decay's new "Game of Thrones" make-up collection is ridiculously pretty
Winter might not be coming anytime soon, but a whole bunch of really pretty, really striking eyeshadow palettes are. Urban Decay is releasing a Game of Thrones make-up collection and we're all about to look like Khaleesi STAT. Bring on the dragons.
Urban Decay released a teaser about their upcoming collection, which features three women straight out of the Game of Thrones world, rocking eyeshadows in glittery golden brown, rich deep blue, and the prettiest purple sparkle. Unfortunately, we'll have to wait until April to get our hands on these palettes which means we should probably console ourselves by watching GOT all weekend long on our throne (bed).
https://www.instagram.com/p/BuL73rchjK3/?utm_source=ig_embed
"We've partnered with HBO to create the Urban Decay | Game of Thrones collection, inspired by our favorite places in Westeros and the strong women of the Seven Kingdoms. From the shores of Dragonstone to the frozen lands beyond the Wall, this collection will let you create looks inspired by House Stark, House Targaryen, House Lannister, and the White Walkers," the brand announces.
If you're currently jonesing for some really gorgeous eyeshadow that will turn you into the Queen of Dragons that you were born to be, there's a few more Urban Decay options available right now to tide you over. The make-up company recently released the NAKED Reloaded collection, which is packed with twelve new shades featuring a whole bunch of shimmer, silkiness, and metallic.
Prepare to feel a confusing amount of feelings over a make-up kit.
Thankfully, we don't have to wait too much longer for Game of Thrones' eighth and final season. It comes out in April and – according to cast interviews – it's going to be bigger and better than ever.
"[Camera] checks take longer, costumes are a bit better, hair and makeup a bit sharper—every choice, every conversation, every attitude, has this air of 'this is it,'" Emilia Clarke told Entertainment Weekly. "Everything feels more intense."
Kit Harington added to The Huffington Post: "You have to live up to the hype that's surrounded the show and the worst thing would be to end without really pushing and trying new things. Even if it's a failure, at least trying to go out with a bang."
Well, I guess our only plans next month should be watching every single episode of GOT, all while rocking our cool new Khaleesi eyeshadow.
This article was originally published on