You Can Now Buy A Caboodle Just Like The One You Had In 8th Grade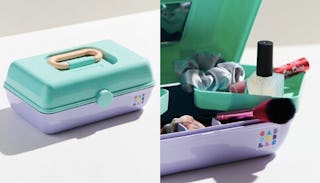 Image via Urban Outfitters
Caboodles are back and just as adorable as you remember
If you grew up in the '90s, chances are excellent you owned a Caboodle or two. Or four *raises hand slowly.* How else were you supposed to organize your zillion scrunchies and three dozen Lip Smackers along with your Ten-O-Six Deep Pore Cleanser? You might not have had the foresight to hang on to this amazing organizational tool past the age of 15, but fear not — they're back.
And they come in the adorable colors you loved back when Clarissa explained it all.
This fun little flashback is brought to us by the geniuses at Urban Outfitters who must've realized that the Caboodle generation was all grown up and missing our favorite pastel makeup storage system. Because what woman in her 30s or 40s doesn't remember stuffing this thing to the gills with all manner of glittery eye shadow, cool hair do-dads, and shimmering lip glosses?
The product description reads, "Small storage case with swing-out trays and an included mirror, perfect for putting on a full face on-the-go, made in vintage-inspired colors that pay homage to the original Caboodles of the '80s and '90s."
OK, trying not to take off my earrings, hand my BFF my purse, and get ready to throw down over something from my childhood being called vintage, but as long as I can have a sea foam green and perfectly peach-colored Caboodle to fill with all my beauty goodies, I guess I can swallow it.
It even has the original colorful logo, and my preteen heart is literally pitter-pattering right now.
I actually bought a rip-off Caboodle for my 10-year-old daughter for Christmas last year and she didn't even come close to understanding how delightful it is and all the fun she could have with it. It's sitting on her dresser with nothing in it, just begging for me to fill it with my latest Sephora purchases, but never mind her fake one.
Now, I can have the real version, like it's 1994 again.
The best part? They're only $10, so your adult budget can probably afford one in every color. I can't think of a better place to store my Saved by the Bell lipstick trio and Nickelodeon eye shadow palette. Happy throwback shopping, moms!