Finally, Women In The U.S. Can Get Abortion Pills By Mail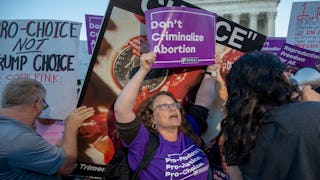 Image via Tasos Katopodis/Getty Images
Here's how you can access a safe abortion in the privacy of your own home
An organization called Women on Web is a service that provides women a way to perform their own safe, medication-induced abortions at home. For years, the group has been shipping the medication to women in countries where abortion is outlawed — and now, through a new service, they are shipping to women in the United States for the first time.
The Atlantic reports that while plenty of American women search online for abortion-inducing pills, many of the medications and online pharmacies they find aren't reliable or safe. The founder of Women on Web, Dr. Rebecca Gomperts, has officially launched a new similar service — Aid Access. The cost for the abortion pills is $95, but they'll try to assist women who can't pay the full fee. And they definitely ship to women in the United States.
The prescriptions for misoprostol and mifepristone are approximately 97 percent effective in causing an abortion within the first trimester. Currently, one-third of all abortions in the U.S. are performed via misoprostol and mifepristone.
How it works: Dr. Gomperts will fill each prescription herself. She sends the prescriptions to an Indian pharmacy she trusts, which then ships the pills to women at home in the U.S. Women who are in need of the service Aid Access provides will be screened for eligibility through an online process, and they shouldn't be more than nine weeks pregnant.
The pills are mailed with a set of instructions, and if women have questions, Dr. Gomperts is available via Skype or phone. While any medication comes with its own risks, studies show abortion pills are safe — with just three percent of users have ever experienced complications like heavy bleeding.
While Women on Web hasn't worked with American women in the past because of anti-abortion activist attempts to shut her business down, Dr. Gomperts tells The Atlantic she's been inundated with requests from women in the U.S. who are already seeing the effects of limited access to safe abortions in many states. "I got an email from a woman who was living in a car with two kids," she says. "Something had to be done."
You can donate to Aid Access via Dr. Gompert's site, Women on Waves, here.
This article was originally published on